Australian Labor Party leader, Bill Shorten, is out and about today, folks. According to his official Instagram account, he's been visiting a couple of Perth radio stations for a chat, but one particular slide in his story shows him playing a spot of Mario Kart, and I'd just like to unpack that with you all.
The story is tagged with a link to 96FM's Instagram profile, which tells us the station has, by the looks of it, a SNES Mini, so we're talking OG Mario Kart, not the fancy new Nintendo Switch version we've been hooning around in. Before we delve any deeper, let's check out the clip, shall we? Yes, it's a gif, but there's no sound in the story, so don't even worry about it.
First up, Bill is absolutely right. There is no time, late or early, that is too extreme for playing Mario Kart. One of the perks of being a fully grown adult is that you can play Mario Kart whenever the hell you like. It's simply a fact of life. What I will pull old mate up for, however, is calling it "Mario Karts", which is not what it's called, nor is he playing two different games of Mario Kart at the same time, ruling out any need for the pluralisation of Kart.
Moving on from that somewhat forgivable misspelling, let's discuss Bill's driving. If we take a closer look, we can see he's playing on what is arguably Mario Kart's easiest track. There's a couple of bends, minimal obstacles, and a long straight. Pretty standard stuff.
We can see that the video starts just as Billy hits the straight, leaving him free to open that shit up and just fang it straight down the middle, but he doesn't do this, folks. Halfway down the straight, Bill jerks wildly to the left, sending himself onto the dirt for absolutely no reason. Why have you done this, Bill? There are no visible obstacles on the track at all. It really begs the question, if you can't drive Toad down a straight, clear roadway, how can the Australian public expect you to drive our nation to happiness and prosperity?
On that point, let's talk about his character selection, Toad. Now, there's nothing outwardly wrong with Toad, he's been a consistent character in the Mario universe from the beginning. You could argue that having a head that's also a mushroom is an issue, but we're going to skim over that for the purposes of this piece. Instead, let me ask you this – is Toad a leader? When you think about the Mushroom Kingdom, do you think of Toad running it? Absolutely not, because he is simply not a leader, so why have you chosen him, Bill? Sure, Mario is a choice that's perhaps a little too predictable, but going with a character like, say, Bowser would have made a pretty strong statement. Toad, though? C'mon, Bill.
Let's go in for a closer look for a moment. ENHANCE.
See anything wrong with this picture? Allow me to point it out for you; there are no other players on this track. Bill is playing time trial, which means he's literally driving around the easiest track in the game all by himself. It is a mode for cowards.
Or maybe I'm being a little harsh on Billy. Perhaps it was an innocent mistake made by someone who just doesn't know any better, mashing the A button until a race – any race – began. I'm going to give him the benefit of the doubt, here.
Ten seconds of Mario Kart says a lot about a man, folks. It's a glimpse into the very essence of what makes them tick. Sure, maybe Bill was thrust into this situation unwittingly, or perhaps he truly did just want to run a few leisurely laps before a radio interview, free from bananas and red shells. But there's only one way to know for sure, and that's for Bill Shorten to race me.
Bill, if you're reading this, I formally invite you over to my place to play Mario Kart, and if I win, I get to be opposition leader for a day. The Presets may have beaten me in the first episode of A La Kart, but they have powerful dance music magic that I am simply no match for (you can watch that video at the top of this yarn).
Race me, Bill. Prove to Australia that you can win Mario Kart and in turn, win the hearts of its people. I'm not joking.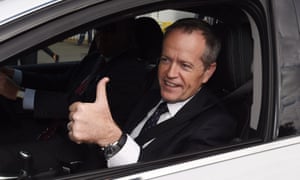 Image: Instagram / billshortenmp