The next Assassin's Creed game will be named Odyssey and will be set in Ancient Greece, according to a series of leaks.
As reported by French website JeuxVideoLive and confirmed over at Kotaku, the game is expected to be a direct sequel to last year's incredibly successful and critically acclaimed Assassin's Creed Origins, which was seen as a massive return to form for a series which had become fairly repetitious after a series of yearly releases.
It is believed that Odyssey will be a direct sequel to Origins, which as you might recall mostly divorced itself from the now quite convoluted overarching story of the Assassin's Creed franchise – which involves ancient futuristic civilisations and the apocalypse, obviously – and focused mostly on a dramatic story in Ancient Egypt. Despite the fact it's reportedly a sequel, the leaks suggest protagonists Bayek and Aya are not featured in playable form.
It's also reported that the game will represent an even more radical departure from the classic Assassin's Creed format than Origins, which added a series of RPG mechanics and focused more intensely on crafting a huge open world. That could mean anything – but there's definitely a lot Origins introduced to build on.
Origins broke the yearly release schedule of Assassin's Creed games, skipping 2016 entirely. Kotaku reports that it's likely Odyssey will not continue this trend and will be released this year.
It seems likely that Odyssey will be officially announced very soon. A tipster sent photos to JeuxVideoLive of an official keyring which has been made to promote the game, featuring a Greek-style helmet. Seems primed to launch into a full on marketing campaign.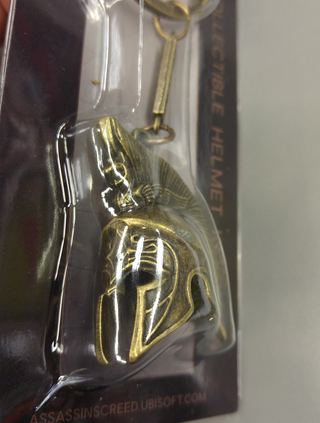 Keep your ears to the ground. Seems like this is a very credible leak, but we'll have to see what Ubisoft say officially before we start fantasising about jumping off the top of the Acropolis and killing some guy.
Image: Assassin's Creed Origins