2012. A time when Australian Idol was a distant memory and The X Factor just wasn't blowing anyone's skirt up. A time when reality television was awash in cooking shows and we were yet to welcome in the delightfully batshit romantic adventures of The Bachelor Australia, which premiered the following year.
Then on the 15th April, everything changed when Seal, Delta Goodrem, Joel Madden and Keith Urban sat in four red chairs with their backs to the stage. It was The Voice Australia and it, my friends, was a television phenomenon.
The very concept of not facing the singer during the Blind Audition stage and therefore not being able to judge their appearance made for some tantalising TV. Australians found themselves screaming at their telly for the coaches (not "judges", because remember they aren't judging, guys) to "TURN AROUND", especially when Channel Nine had given us a particularly affecting emotional back story for said singer. Or, if they were hot as well as talented. (We at home were still allowed to be superficial assholes.)
While the Blind Audition stage is clearly the best and the show admittedly does drop off a bit from that point, the format remains pretty ruthless once the coaches have selected their teams. The coach is forced to choose two singers to square off in the Battle Round, pitting them against each other as they sing a chosen duet on a stage fashioned to look like a boxing ring. Each singer tries to impress their coach so they get chosen to go through to the next round, or from Season 2 they can also impress another coach who is able to "save" them and take them into their team.
Although I've only watched a couple of seasons of The Voice, I am keenly aware that there must be countless memorable Battles where people wowed the crowd and the coaches and got chosen / received standing ovations / were saved / caused in-fighting with the coaches. I even know that Season 2's Battle Round of "Walking In Memphis" was technically better on all levels. But there's one solitary, obscure Battle that is stuck in my memory forever: Mitchell vs Fatai V.
For a bit of background, Mitchell and Fatai V were both on Seal's team. I remember nothing about them, no emotional back story, no context at all. I just know that these two took to the stage on the 1st of May, 2012 to sing the huge Rihanna / Eminem ballad "Love The Way You Lie (Part II)". And my life was never the same.
From the opening bars, sung by Mitchell, you knew these two meant business. Especially since Mitchell did literally appear to be dressed like a man going to his day job as an investment banker in Sydney's CBD.
I think what affected me most about this performance wasn't so much the actual performance, but the coaches instant reaction to it. As soon as Mitchell gets his first bit out, Ricki-Lee (who was randomly there assisting Seal in some capacity, I cannot remember why) pulls this face:
Then when Fatai starts singing the chorus, Delta reacts like this and its goosebumps from me:
To their credit, Mitchell and Fatai remain very composed even though the crowd begins to go fkn wild and their coach Seal starts doing things like this: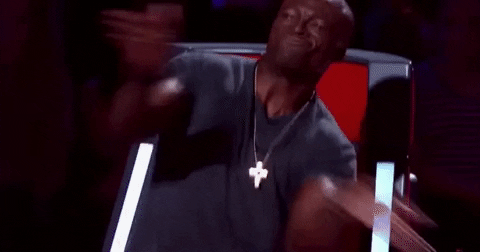 And this: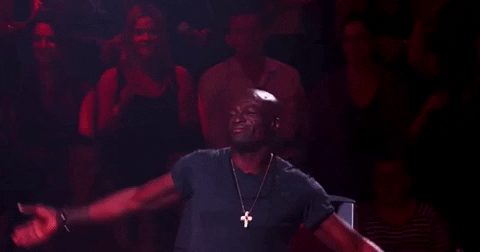 And also this: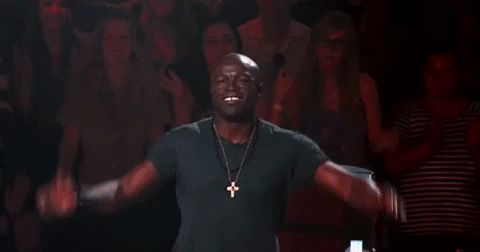 In fact, Fatai only mildly fucks up the lyrics once which is impressive considering she was like 17 or something insane, and like 2 million people were watching the show at this point.
Now, the clip, which I watch on a weekly basis and currently has over 5.2 million views on YouTube (I believe at least a million of them are from me and my best friend, who is equally obsessed with this stale voice Battle) cuts off at the end of the song. We see no glowing feedback from the coaches. We see no hushed conversation between Seal and his trusted advisor, Ricki-Lee. We see none of the deliberation of Seal as he attempts to separate one talented singer from the other in this tense moment. But I remember.
I remember that Ricki-Lee said Fatai couldn't compete with Mitch's power. And I remember that Seal chose Fatai anyway, and even though they were all sliding off their chairs over his performance, Delta, Joel and Keith couldn't save Mitchell because that wasn't a thing until Season 2.
It's a tragedy of epic proportions. It is in equal parts beautiful and brutal. Who knows what would have become of Mitchell if he had've been chosen by Seal, or saved by another coach? It's a road of maybes I don't want to go down. Fatai didn't end up winning the show (she came runner-up on Seal's team to eventual series winner Karise Eden) either, so what was the POINT of it all? I can't tell you, but I can tell you that it's 3 minutes and 4 seconds of pure musical bliss, and although the outcome wasn't rosy for Mitchell or Fatai on the show, I for one will never regret that it happened.