A solid 14 years after we were introduced to the man, the myth, the legend, Brick Tamland, through the Channel 4 team on Anchorman, Steve Carell has revealed that the dim character's most-iconic line was totally off the cuff.
During a conversation at New York's cultural and community centre, 92nd Street Y, this week, Carell spoke fondly about his methods of creating Brick's simple-ye-hilarious presence in the movie.
Carell said that he would often just stand in from of the cameras and say non sequiturs – which I'm sure is where classic lines like "I ate a big red candle", "I woke up in a Japanese family's rec room" and "I like to eat ice cream and enjoy a nice pair of slacks" came from.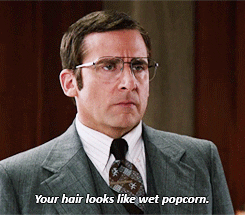 But it's the most memorable interaction between Brick and the rest of the team that really shows off Carell's sheer comedy skills – because it was totally ad-libbed.
As reported by Page Six, Steve Carell says that in the scene where Ron Burgundy is describing to the gang what love feels like (before they launch into an acapella of 'Afternoon Delight'), Brick actually didn't have any lines, and the film' director Adam McKay wanted him to be more involved in the conversation.
Adam was like, 'We should have more lines for you, but we don't have any on the page.' He literally said 'Just say something,' and hence came 'I ate a big red candle' [and] 'I love lamp,'

The 'I love lamp' thing was just me at the end of a scene staring at a lamp and I said 'I love lamp' and [Ferrell] picked up on it and said, 'You're just saying things you're looking at.'
If you can't quite recall it, here's the scene in full.
Honestly, can we retrospectively give Paul Rudd all the awards for keeping his composure next to Steve Carell while he confessed his love for various inanimate objects.
Oh and good luck getting Afternoon Delight out of your head.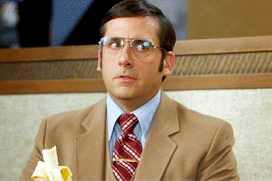 Source: Page Six