Friends, we're copping a new Lucasfilm animated series called ~ Star Wars Resistance ~  soon and look, people are bloody keen.
The announcement couldn't come at a better time as Rebels just came to a bittersweet end after four seasons so now we have something new to look forward to again.
And look, I know what you're thinking – what about the animations? Well, according to the Disney presser they're not reverting to Clone Wars or Rebels, they're trying something completely new and going with an "anime-inspired" style.
Alrighty-roo.
The announcement came via Star Wars' official twitter today and quickly spread throughout the galaxy as we were blessed with some of the details.
We're so excited to announce a new animated show – #StarWarsResistance! The new series is about Kazuda Xiono, a young pilot recruited by the Resistance and tasked with a top-secret mission to spy on the growing threat of the First Order. Catch it this fall on Disney Channel! pic.twitter.com/0cp7QEFYd6

— Disney Channel (@DisneyChannel) April 26, 2018
Okay, so Kazuda Xiono is a young pilot recruited by the Resistance who somehow lands themselves a top-secret mission which has something to do with the First Order, so yes this is set before The Force Awakens. 
Will we see pre-emo Kylo Ren? Here's bloody hoping.
BB-8 will be 2D-ing himself alongside a handful of new characters we'll all grow to love. There'll be amazing appearances by Poe Dameron and Captain Phasma, voiced by none other than Oscar Issac and Gwendoline Christie respectively.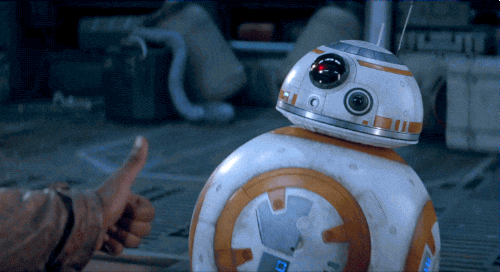 Series creator Dave Filoni is known for his work on Clone Wars, Avatar: The Last Airbender, and Rebels so yes, very promising, and yes more excitement.
Dave was reportedly inspired by his interest in World War II aircrafts and fighter pilots as well as his grandfather who was a pilot and often flew restored planes.
The voice-cast will include Christopher Sean, Suzie McGrath, Scott Lawrence, Myrna Velasco, Josh Brener, Donald Faison, Bobby Moynihan, Jim Rash, and Rachel Butera. 
Rebels was great in its own way but will this new series beat Clone Wars? Maybe, maybe not.
Star Wars Resistance will hit Disney Channel this Fall AKA Spring for us. There's no official date yet but we'll take whatever's given.
In the mean time, let's relive this entire scene from Rebels Season Two.
Mmm, feelings.
Source: Starwars.com
Image: Lucasfilm