In the lead up to the third season of The Crown, the role of Prince Philip has been handed over to another deeply-British, strong-jawed fella, Tobias Menzies.
The man who is young enough to be handsome and yet old enough to kinda remind me of my British grandfather. But also in a very real way, he's the man who also grosses us all out to the depths of our souls after playing the terrible, sadistic, one-shade-away-from-pure-evil Johnathan 'Black Jack' Randall in Outlander.
Netflix, how dare you do this to us. We were all so delightfully charmed and enamoured by Matt Smith's Philip, and now it's likely that all our respective royal horniness is going to rapidly recoil because there's no way we can disassociate the (genuinely brillian) Tobias Menzies from the BlackJack. There's no way.
Say hello to your new Prince Philip in @TheCrownNetflix Season 3: Tobias Menzies! pic.twitter.com/OZqb6wad6L

— Netflix US (@netflix) March 28, 2018
The royal role is (bloody hopefully) a far cry from Menzies' character in Outlander, who ruled with an iron fist through instilling deep fear – and wasn't above abusing, assaulting, and attempting rape on young women. So glad he's a royal now. So glad.
After Matt Smith portrayed Prince Philip Mountbatten, Duke Of Edinburgh in the first two seasons of The Crown, it was hard to even conceive how anyone else could play the sulky-yet-charming Philip, and folks who follow both shows are going to have a hard time trying to shake off the feelings of contempt toward Menzies' character in Outlander and adopt him as Queen Elizabeth II's beloved Philip.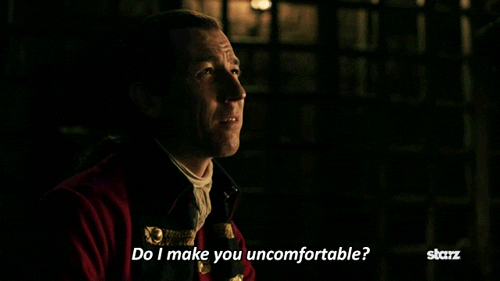 Granted, Menzies definitely has the demure and proper-ness of a royal; a tight-lipped smile and slight sparkle of mischief in his eye that Matt Smith nailed perfectly in the role for the first two seasons opposite Claire Foy. He's also known as quite the versatile actor; playing everything from Edmure Tully in Game Of Thrones to Brutus in Rome, and THAT dual role in Outlander.
Menzies is the third cast member to be announced for the upcoming season, joining Helena Bonham Carter is Princess Anne and Olivia Colman as Lilibet. It's said that Camilla Parker-Bowles and Lady Diana Spencer (later to be Princess Diana) will be introduced in season three, but we're yet to meet the actors filling those shoes.
Source: Deadline
Image: Getty Images / Pablo Cuadra