Still having nightmares from season 1 and season 2 of Netflix drama-thriller series, You? lol same. And I regret to inform you that your sleep patterns won't be returning to normal any time soon because You season 3 is coming to Netflix shortly.
The official You Twitter page revealed that production on season 3 has officially wrapped, which means we can expect the new season v. soon:
don't worry we have eyes on joe at all times. happy S3 wrap 🧢 pic.twitter.com/IriRlToUc2

— YOU (@YouNetflix) April 24, 2021
I've done some Joe-level stalking to dig up as much dirt on season 3 of the spicy Netflix series as I could and I've found the tea on everything from the You season 3 plot to when it's airing to who is in the cast.
Until then, can Netflix pls release us from this glass box and share more You season 3 details (like a trailer) ASAP?
Is there a You season 3 trailer?
There sure is!
Enjoy:
https://youtu.be/xAN1ThhTWsE
When is You coming back?
You season 3 is set to hit Netflix on October 15 and believe me when I say I'm counting down the fkn days. As with almost every single show and movie that has been filming over the past year, production was halted due to the coronavirus pandemic but they recently resumed and we should be all g for a 2021 release date.
Netflix confirmed on November 2 that production had resumed, sharing a photo of Penn Badgley on social media wearing a themed mask on set.
"We recommend you stay at least 6 feet from Joe Goldberg at all times," Netflix captioned the post.
We recommend you stay at least 6 feet from Joe Goldberg at all times.

YOU Season 3 is back in production. pic.twitter.com/ijti25tPFk

— Netflix (@netflix) November 2, 2020
Who is in season 3?
Penn Badgley is returning to scare you shitless as creepy psycho killer and series narrator, Joe Goldberg. Victoria Pedretti, who plays his girlfriend, Love, will also be returning and why do I get the feeling that she won't make it out of next season alive?
"I personally think it's already stronger than last season," Victoria Pedretti said via NBC News. "It's everything I hoped for in imagining a world in which Joe and Love could be really confronted with themselves, and it creates so much space for so much tragedy and hilarity, and I'm so psyched."
You season 3 stars Penn Badgley and Victoria Pedretti via Netflix.
Queen Saffron Burrows also returns as Love's mama, Dottie, and she'll be "determined to pour her love and attention into Love and her new grandchild," according to Netflix.
And then there's Full House king John Stamos who reprises his brief but beautiful role of jailed doctor, Nicky.
Who is joining the You cast in season 3?
In October 2020, it was announced that Penn Badgley and Victoria Pedretti would be joined by two new characters in You season 3. As noted by Netflix Queue, a Netflix owned Twitter account, "Fresh blood joining You Season 3: Shalita Grant will play Sherry, a 'Mom-fluencer' who appears down to earth, but is actually a mean girl who only pretends to welcome Love into her social circle."
Fresh blood joining You Season 3:

Shalita Grant will play Sherry, a "Mom-fluencer" who appears down to earth, but is actually a mean girl who only pretends to welcome Love into her social circle.

Travis VanWinkle will play the wealthy Cary, who invites Joe into his inner circle pic.twitter.com/Js70prlmZv

— Queue (@netflixqueue) October 15, 2020
Also joining the new season is Travis VanWinkle, who "will play the wealthy Cary, who invites Joe into his inner circle."
Underworld star Scott Speedman has also been cast in the new season. He'll be playing CEO and family man, Matthew.
Scott Speedman has joined the cast of YOU Season 3!

He'll play Matthew, a successful CEO, husband, and uncommunicative father. He's reserved, mysterious, and has a tendency to be withdrawn … all of which masks a deep well of emotion underneath pic.twitter.com/EYp7Xfg65u

— Queue (@netflixqueue) October 21, 2020
Chilling Adventures of Sabrina star Tati Gabrielle has also joined the You cast, starring as Marienne, "a smart, no-nonsense librarian who lives in Joe and Love's neighbourhood and doesn't let much get by her".
What will happen in You season 3?
The You season 3 plot has been quite vague so far, but we're assuming that it'll pick up right where the bonkers season 2 finale left off.
In the last episode of You season 2, we find out that Joe (Penn Badgley) and Love (Victoria Pedretti) are perfect soul mates as Love admits that she, too, has murdered a bunch of people for kicks. Lovely!
We then see the killer couple move in together in a gorgeous home, complete with a white picket fence, where they can swap murder stories and live happily ever after. Love rubs her pregnant stomach, and Joe seems to be going along with the whole thing.
Will Love be pregnant in You season 3?
Showrunner Patrick Gamble told Entertainment Weekly that season 3 will defs pick up where season 2 left off, so all our questions will be answered.
"The stakes are pretty high. I have so many questions about Love's mother who's incredibly in the picture at the end of the season, like how much she really knows about her children," he said.
"We wrote [the finale] hoping that we will get the opportunity to tell more story because we're really excited with the seeds planted at the end of season two."
Showrunner Sera Gamble also shared some sneaky deets on her Twitter, writing: "The episodes are fucking bonkers and the performances are insanely good.
"That's all I'll say about that till we are ready to talk about the new season."
I feel privileged to have gotten to witness everyone's creativity, resilience and kindness. I mean, I knew our team was tough and good at their jobs, but holy shit did everyone show up for each other. All the way up the Warner's/Netflix ladder and in every production department.

— Sera Gamble (@serathegamble) April 23, 2021
Ooft. Can't wait!
Okay, what about any You season 3 photos?
I mean, no… other than that set photo that Netflix posted featuring a masked-up Penn Badgely (seriously, get your shit together, Netflix!).
How many episodes will You season 3 be?
Much like season 1 and season 2, Netflix is giving us 10 epic episodes of You season 3.
Any spoilers?
In an interview with Entertainment Tonight, Penn Badgley accidentally dropped some You season 3 spoilers which probs pissed Netflix off but oh well!
While discussing Joe's relationship with Love, Penn Badgley said, "Dare I say, I think in the third season—Oh, God!"
The You season 3 star added, "I literally know nothing about the third season." Sure, Jan.
Are Joe and Love really having a baby together?
The season 2 finale left us with the question: Is Love really pregnant? It certainly looks that way, based on the scene where she and Joe move to a lush home where she can be seen rubbing her pregnant belly, but alas, not everything is as it seems.
Loose-lipped Penn Padgley recently told TVLine that "they're not soulmates."
"He's afraid of her at the end. Basically, it's set up for [You season 3] in a way where they would be each other's arch nemesis."
"This is just the beginning because this is where I had to be, exactly where I had to be, to meet you," Joe says in the closing scene. "There you were, with your books and your sunshine. So close but worlds away. I will figure out a way to get to you. See you soon neighbour."
How many books are in the You book series?
Okay so here's the weird thing, there are literally only two books in the You book series at the mo, which means that from here on out, they'll pretty much be doing a Game of Thrones and making shit up as they go.
In case ya didn't know, You is adapted from Caroline Kepnes' two-novel series Hidden Bodies. But while the first season largely stayed true to the book, season 2 strayed from the book quite a bit, but it was still an epic adventure, so we should be in safe hands for season 3!
"We've got lots of great stuff from the books, and also some new things that have come about as a result of changing the story for TV," You season 3 writer Sera Gamble told the Metro UK. 
What's happening with the You books?
The third book in the You book series, titled You Love Me, is coming out on April 6, 2021 and it'll be so fucking fascinating to see the different avenues that the Netflix series and the book take, won't it?
In the meantime, go forth and binge season 1 and season 2 of You on Netflix to prepare yourself for season 3 which will be released on the international streaming giant later this year.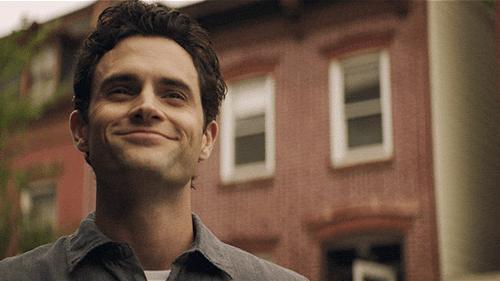 While you wait patiently for You season 3 to drop on Netflix, why not find a new obsession in our roundup of best new Netflix series HERE, or hit up a modern classic from our list of the best Netflix series of all time HERE. Or if you just really like having the shit scared out of you, maybe you will like one of the best horror movies on Netflix, which you can find HERE.
https://youtu.be/xAN1ThhTWsE