Breaking news from the Rebel forces about the beloved General Leia Organa. You might want to sit down for this one.
So apparently, not only was Princess Leia a general, a senator, a bad-ass motherfucker and, y'know, a princess – according to the recently-noticed director's commentary from the 2004 edition of A New Hope, she was also a Ph.D.
At age nineteen.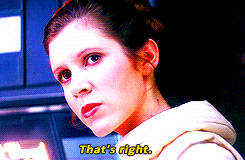 Honestly, could this character get any better?
Check out the quote from George Lucas, spotted by film and TV academic Becca Harrison in a book called Superwomen: Gender, Power, and Representation by Carolyn Cocca.
https://twitter.com/BeccaEHarrison/status/893483808309231616
Fans are, understandably, shook by the revelation that an already excellent character was also basically the brainiest brain genious in the entire galaxy.
HOW AM I JUST NOW LEARNING THAT LEIA HAS A PHD?!

— leia archive; (@okayarchives) August 5, 2017
Every gif of Leia rolling her eyes takes on new meaning now I know SHE HAD A SODDING PHD. pic.twitter.com/fxmC4RfICo

— Dr Fern Riddell (@FernRiddell) August 5, 2017
https://twitter.com/terfle/status/893633378892886016
…became generals before her. Lando had been in the resistance for five fecking minutes. That is some bullshit.

— Little She-Bear (@Morcelle) August 5, 2017
Where is my standalone Dr. Organa prequel movie where Leia earns her PhD? https://t.co/XbB6fYvhxD

— S. Ham (@Sophia_etc) August 5, 2017
leia had a PhD at nineteen I'm shook to the core I'm hairless she's a legend

— alwine 🥀 (@freeadora) August 5, 2017
It's worth pointing out that Harrison, who was the eagle-eyed wizard who first pointed out the overlooked factoid and mentioned how annoying it would be to have your achievements overlooked, has been referred to be at least one publication as a student. She earned her Ph.D in 2014.
https://twitter.com/BeccaEHarrison/status/894061269266968576
If it's good enough for Princess Leia…