Punters have been fanging for a reboot of The Office ever since it ended back in 2013 and it looks like y'all might finally be getting your wish.
The upcoming NBCUniversal streaming platform today unveiled its name, Peacock, and its initial slate of original series, which includes reboots of three NBCU series, Battlestar Galactica, Saved By the Bell and Punky Brewster, Deadline reports.
Along with the announcement came news that a reboot of The Office might soon be in the works.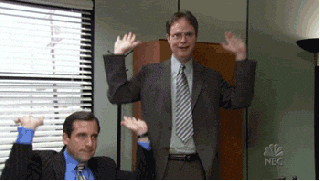 "It is my hope and goal that we do an Office reboot," NBCU's Bonnie Hammer, Chairman of Direct-to-Consumer and Digital Enterprises, told the publication.
"The Office comes back to us in January 2021. It is my hope that we can figure what that great reboot would be," Hammer said, adding, "We are having conversations."
This would certainly fit with the American streaming service's strategy for original scripted series, including reboots, in which "we want there to be some connective tissue to what we also have in the library," Hammer said.
Fingers and toes, people.