After teasing us with the "EXPLOSIVE WALKOUT" in last week's episodes of The Bachelor Australia, it seems Channel Ten might actually airing the highly dramatic, highly publicised episode this week.
The drama, from what we can gather from various reports and the actual trailer, seems to begin when Abbie — who waded into controversy last week by daring to kiss Matt at the cocktail party, of all places — tells Matt that Monique called him a "dog cunt" and a "disrespectful pig".
Honestly, I'm not even mad because it's the most deeply Aussie thing I've ever heard, and I grew up in Newcastle. But as Monique explains to TV Week magazine, there was source material behind the comment. And that source was everyone's fave Aussie YouTube sensation, Trent from Punchy.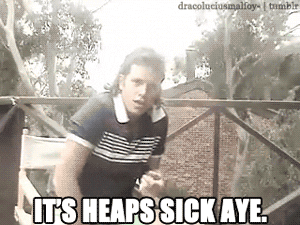 TV Week reports that Monique and fellow Bachelorette Rachael were doing Trent from Punchy impressions when the alleged comment was made, which Monique says her rival Abbie took way too seriously.
We were in stitches laughing. I don't remember exactly what was said, but if it was said, it was as a joke. It was taken completely out of context.
Maybe Abbie isn't well-versed in Trent from Punchy clips. Or maybe, Monique is throwing poor Trent under the bus to excuse for her own vulgar vocabulary. Either way, The Bachelor is very upset about the whole fiasco.
In the trailer, we see Matt confronting Monique and also telling the entire cast of Bachelorettes that the cocktail party has been a "tremendous waste of time". He told TV Week about the incident:
It did mess with my head a lot. After that cocktail party, I had a real hard time trusting [anyone]. I had no idea who was telling the truth and what was a lie. It did kind of have a mental impact. I spoke to the psychologists regularly after the rose ceremonies, but this was certainly one of the longer chats we've had.
Abbie says was also deeply affected by the drama that, er, she started.
I wasn't coping. I had to call the psychologist, and the minders were a bit worried. I didn't eat for three days. I just slept and cried. I really wasn't well.
Fascinated to watch The Bachelor on Wednesday to see if a) the walkout actually makes it onto the episode and b) if Trent from Punchy really is behind it all.