PSA: This article contains potential spoilers, you have been warned…
The Bachelor Australia's producers can have NDAs written up and force contestants to sign their lives away in exchange for their silence but it won't do any bloody good if the fam of the show's suitor can't keep it zipped on social media.
The gossip gurus at Daily Mail reckon they've cracked the code of who wins the heart of Nick 'Honey Badger' Cummins after noticing that members of his family have one of this season's contestants on the ol' FB.
The sheila in question is 30-year-old brunette Brittany Hockley.
Before the Bachie frontrunner made her Facebook account private last week, screenshots emerged of Nick's sister Bernadette Cummins Bowler wishing her a happy birthday.
Another relo of Nick, Leigh Cummins also befriended Hockley and liked Britt's post about her date with the former rugby player.
Hockley reportedly updated her privacy settings after hinting to her mates that they should place bets on her winning via Sportsbet.
Now, I'm no lawyer or anything but I'm guessing that that'd be a big fat breach of the NDA she no doubt woulda signed when she joined the show.
I'm also pretty sure ya can't fuck with Sportsbet if you're the one being betted on.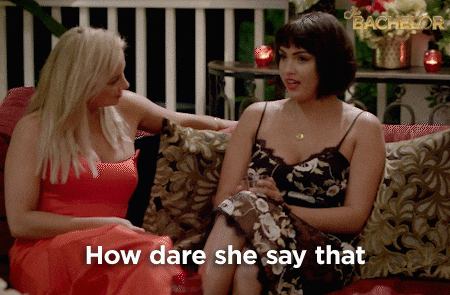 pls don't @ me for using this GIF, it worked so well with the context
Look, it's possible that Bernie met Britt when she and her fam visited The Bachelor Mansion earlier this year and they went off like a bride's nightie but either way, she's at least a definite frontrunner as she has Nick's fam's seal of approval.