As you do your routine morning scroll through your social feeds today, you will see that Taylor Swift has partaken in a new interview with Rolling Stone where she graces the cover.
[jwplayer gNKCqtOD]
For any old pleb, this appears to just be a cool new mag cover, but Swifties everywhere will know exactly what this means.
Tea has been spilled.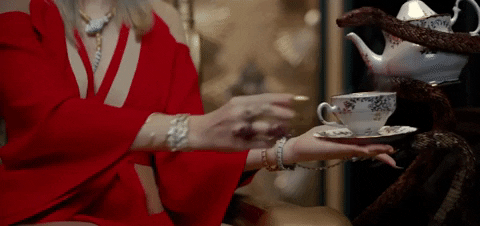 No one, and I do mean no one, interviews Tay Tay quite like RS.
Need I remind you that it was in an RS interview that Tay first announced that a *certain* artist had knocked off her dancers, thus kicking off your fave celebrity feud (said feud is also referenced in this interview, BTW).
I absolutely implore you to go ahead and read the interview for yourself, but here are some key details that I, a die-hard Swiftie, thought were most pertinent.
NEW DEETS ABOUT HER FEUD WITH KANYE
Swift tells a new yarn about how Kanye West stitched her up at the 2015 VMAs.
Nope, not the 2009 "imma let you finish" incident, this happened a few years back and it's spicy as shit.
"The 2015 VMAs come around. He's getting the Vanguard Award. He called me up beforehand — I didn't illegally record it, so I can't play it for you — but he called me up, maybe a week or so before the event, and we had maybe over an hour-long conversation, and he's like, 'I really, really would like for you to present this Vanguard Award to me, this would mean so much to me,' and went into all the reasons why it means so much, because he can be so sweet. He can be the sweetest," she said.
"And I was so stoked that he asked me that. And so I wrote this speech up, and then we get to the VMAs and I make this speech and he screams, 'MTV got Taylor Swift up here to present me this award for ratings!' … and I'm standing in the audience with my arm around his wife [Kim Kardashian], and this chill ran through my body. I realised he is so two-faced. That he wants to be nice to me behind the scenes, but then he wants to look cool, get up in front of everyone and talk shit. And I was so upset. He wanted me to come talk to him after the event in his dressing room. I wouldn't go. So then he sent this big, big thing of flowers the next day to apologise. And I was like, 'You know what? I really don't want us to be on bad terms again. So whatever, I'm just going to move past this.' So when he gets on the phone with me, and I was so touched that he would be respectful and, like, tell me about this one line in the song. [The line being '… me and Taylor might still have sex'.] And I was like, 'OK, good. We're back on good terms.' And then when I heard the song, I was like, 'I'm done with this. If you want to be on bad terms, let's be on bad terms, but just be real about it.'"
On Scooter Braun and the BS claims that she declined to take part in the March For Our Lives Demonstration and Manchester Benefit Concert
Another way that her critics have tried to tear her down is by claiming that she refused to participate in the March For Our Lives Demonstration and the Manchester Benefit Concert.
Guess again, binches.
"Unbelievable. Here's the thing: Everyone in my team knew if Scooter Braun brings us something, do not bring it to me. The fact that [Big Machine Label Group CEO Scott Borchetta and Braun] are in business together after the things he said about Scooter Braun — it's really hard to shock me — and this was utterly shocking," Swift shared.
"These are two very rich, very powerful men, using $300 million of other people's money to purchase, like, the most feminine body of work. And then they're standing in a wood-panel bar doing a tacky photo shoot, raising a glass of scotch to themselves. Because they pulled one over on me and got this done so sneakily that I didn't even see it coming. And I couldn't say anything about it."
Katy Perry reunion goss
While rekindling their friendship, rivals Katy Perry and Taylor pointed out that their traits as a Scorpio and Sagittarius (respectively) may have played a hand in their beef.
"We were talking about how we've had miscommunications with people in the past, not even specifically with each other. She's like, 'I'm a Scorpio. Scorpios just strike when they feel threatened.' And I was like, 'Well, I'm an archer. We literally stand back, assess the situation, process how we feel about it, raise a bow, pull it back, and fire.' So it's completely different ways of processing pain, confusion, [M]LC M***isconception," Swift said of reconnecting with Perry.
"And oftentimes I've had this delay in feeling something that hurts me and then saying that it hurts me. … And so I can understand how people in my life would have been like, 'Whoa, I didn't know that was how you felt.' Because it takes me a second … And that is how I handle any discomfort, any pain. I stand there, I freeze. And then five minutes later, I know how I feel. But in the moment, I'm probably overreacting and I should be nice. Then I process it, and in five minutes, if it's gone, it's past, and I'm like, 'I was overreacting, everything's fine. I can get through this. I'm glad I didn't say anything harsh in the moment.' But when it's actually something bad that happened, and I feel really, really hurt or upset about it, I only know after the fact. Because I've tried so hard to squash it: 'This probably isn't what you think.' That's something I had to work on."
On dealing with the haters
"Criticism that's constructive is helpful to my character growth. Baseless criticism is stuff I've got to toss out now," she explained.
"I thought about how words are my only way of making sense of the world and expressing myself — and now any words I say or write are being twisted against me. People love a hate frenzy. It's like piranhas. People had so much fun hating me, and they didn't really need very many reasons to do it. I felt like the situation was pretty hopeless. I wrote a lot of really aggressively bitter poems constantly. I wrote a lot of think pieces that I knew I'd never publish, about what it's like to feel like you're in a shame spiral. And I couldn't figure out how to learn from it. Because I wasn't sure exactly what I did that was so wrong. That was really hard for me, because I cannot stand it when people can't take criticism. So I try to self-examine, and even though that's really hard and hurts a lot sometimes, I really try to understand where people are coming from when they don't like me. And I completely get why people wouldn't like me. Because, you know, I've had my insecurities say those things — and things 1,000 times worse."
She's already pondering a family with Joe Alwyn
"I think I might feel like that possibly when I have a family. If I have a family. [Pauses] I don't know why I said that! But that's what I've heard from other artists, that they were very protective of their personal life, so they had to draw inspiration from other things. But again, I don't know why I said that. Because I don't know how my life is going to go or what I'm going to do. But right now, I feel like it's easier for me to write than it ever was."
Fall Out Boy has influenced her music
"I love Fall Out Boy so much. Their songwriting really influenced me, lyrically, maybe more than anyone else," she said.
"They take a phrase and they twist it. 'Loaded God complex/Cock it and pull it'? When I heard that, I was like, 'I'm dreaming.'"
She doesn't hate the GoT ending as much as you do
"Oh, my God. I've spent a lot of time thinking about this," she quipped.
"So, clinically our brain responds to our favourite show ending the same way we feel when a breakup occurs. I read that. There's no good way for it to end. No matter what would have happened in that finale, people still would have been really upset because of the fact that it's over."
Read the full interview here.