Here's a MAFS 2023 plot twist no one saw coming: turns out this season's youngest (and objectively cutest) couple Tahnee Cook and Ollie Skelton are distantly related through marriage. Australia is simply too small of a country. Everyone knows everyone!!!
According to Yahoo Lifestyle, when the delightful couple got hitched, attendees at their wedding realised this wouldn't be the first time the two families had been joined in holy matrimony.
"Tahnee's sister's husband is Ollie's second cousin," said one tea-spiller.
"Although they're not blood-related or anything like that, technically they are distant relatives in a weird way.
"A lot of the cast would joke about it."
Absolutely deceased that there's a cast inside joke over Tahnee and Ollie's relatedness.
Could you imagine the gags being ripped about this every time they would've smooched in public?
The workplace class clown would've been having a field day.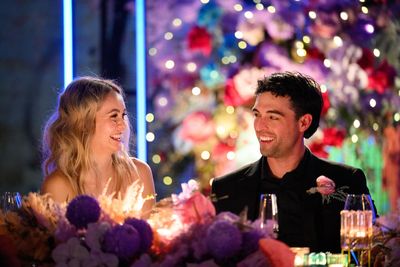 Unsurprisingly, the source also told Yahoo that Channel 9 wasn't super keen on running the storyline.
This makes complete sense in our minds. Such a revelation (although totally above board) absolutely could've become either a juicy development or immediately given Tahnee and Ollie's entire fanbase the ick. Not worth the risk TBH.
"They laughed about this a few times during filming, but it probably won't be aired as Channel Nine won't want people spinning it into an incest-style headline scandal," they said.
Well, if nothing else, the marriage of Tahnee and Ollie is an excellent argument for increasing Australia's migrant intake.
We simply must broaden the gene pool as quickly and as efficiently as possible to avoid a LEGIT bloodline relation pairing on MAFS.
If we're not prepared to do it for the economic benefits, surely do it so we don't have to sit through an Oedipus-style reality TV storyline.
If you're keen on more horrific MAFS content, suss out our alarmingly detailed coverage on Season 10 here.
You'll probably regret it.