Over the weekend at Disney's D23 Expo, I was among the lucky coupla hundred folks who copped the first look at the trailer for  Star Wars: Episode IX – The Rise of Skywalker.
Days later, the legends at LucasFilms unleashed said trailer upon the internet for all you die hards to see and enjoy.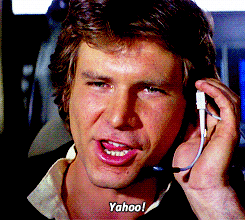 After 40 years of epic intergalactic battles, its all coming to an end with a film to end all films and from what we've seen in the trailer, we're in for one helluva finale.
In the spicy new footage, we see our heroes together taking a field trip to a deserted location, spaceships flying at light speed, a new glimpse at the character known as Jannah, and Rey and Kylo Ren engaged in an epic battle.
But the real kicker in the trailer that drew mad gasps from the crowd at D23 was a scene featuring a dark hooded figure which, as you'll know from Star Wars lore, is indicative of an evil being.
At the end of the trailer, it is revealed that the dark figure wielding a double-red lightsabre is the one and only Rey, hinting that our girl perhaps crosses over to the dark side.
Directed by J.J. Abrams, The Rise of Skywalker will be the final chapter of the latest Skywalker trilogy, following 2015's Star Wars: Episode VII – The Force Awakens and 2017's Star Wars: Episode VIII — The Last Jedi.
Abrams, who also directed The Force Awakens, took over The Rise of Skywalker after Jurassic World's Colin Trevorrow abandoned the project over "creative differences."
Have a geeze at the shocking final trailer below and let the force be with you all:
The Rise of Skywalker will hit cinemas on December 20, 2019.