The reigning queen of Instagram, Selena Gomez has smashed a major social media milestone, beating Beyoncé and as a Selenator I am popping the fkn champagne (don't even @ me, BeyHive).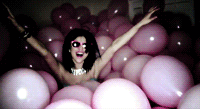 The now 26-year-old has held the impressive title of most-followed 'grammer since 2016 (she currently has more than 139 million followers) but the feat of clocking in the most likes in the shortest time was previously held by Queen Bey as her iconic bb announcement post went absolutely bonkers.
The upload that scored Bey the top slot is either the baby bump pic or the introduction photo of Sir and Rumi Carter, Elle reveals, with the former scoring 6.4 million likes in the span of about several hours, while the latter hit 7.8 million double-taps in its first 12 hours online.
But now Gomez has knocked the mother-of-three off her lofty perch with the ~glorious~ gallery of photos from her 26th birthday that she posted 1 day ago.
"Another year down.. Thank you for all the bday love. I couldn't be more appreciative of you and my best friends for celebrating with me. I love you guys like crazy! God bless!" She captioned the load of pics where the singer can be seen partying with mates on a boat to celebrate her bday.
The post earned 8.2 million likes and counting in less than a day after posting, becoming the most-liked Instagram upload in the shortest time period.
.@SelenaGomez breaks Beyoncé's record of the fastest Instagram post to reach 1 MILLION likes with her 26th Birthday post. She achieved this in under 13 minutes. pic.twitter.com/3JJGor2CSY

— Pop Crave (@PopCrave) July 24, 2018
A massive kudos to queen Sel but I think it's necessary to remind y'all that Bey is rumoured to be pregnant RN so it wouldn't surprise me if a future preggo post reclaims her title. We'll see…