Schitt's Creek has captivated our hearts and souls over the last couple of years, so it was a completely joyous moment for everyone when the team were awarded a total of seven Emmys for their work. However, something that also came with the September Emmys was hints of an SC movie, which we now have some more deets about.
If you're as enamoured by the cast of Schitt's Creek as I am, that subtle hint at the Emmys that there will possibly be a movie coming soon would have excited tf out of you.
In good news, Dan Levy, cast member, show creator and all-round gem of a human, has given us some clarity on when we'll get our hands on the film, if ever.
In an exclusive interview with E!, Levy sat down to spill on his plans for a movie, which there are no current plans for, but definitely will be if fans are still interested in a couple of years. (We will be, Dan.)
"I would love for there to be. I'm not ruling it out," Levy told E!.
"It's very flattering that people want to know, but I would just say generally I think you need to let the good things settle for a minute. Let people finish the show. Let people sort of take a breath.
"And then if people are still interested and an idea comes to me and our cast is wanting to do it, then great."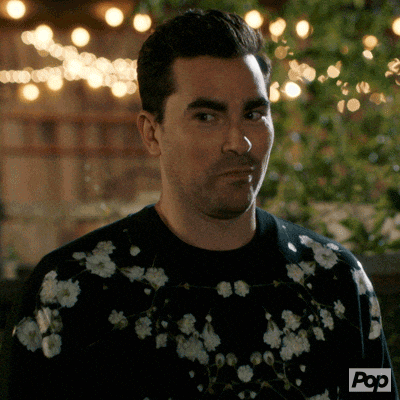 He definitely makes a point there. These days with so many shows coming out so quickly, there is a pretty oversaturated market of media consumption. Let's allow Schitt's Creek to settle in our minds before the film makes us laugh/cry again.
"I'm very sort of sensitive to overstaying your welcome in any capacity. So we'll see in a few years, if it all sort of comes together," Levy said.
He then pointed out in the interview that the show purposely and "cautiously" ended "when things were going really well", so as not to drag out a story for the sake of television. Dan Levy, if Game of Thrones ever do a reboot, please be in charge of that because I love this approach.
Looks like we'll have to wait a bit folks, but a Schitt's Creek movie is most definitely in the cards.