For those Schitt's Creek fans among us, you'll know that Rose family matriarch, Moira Rose, has been toiling away in Bosnia for her triumphant return to the international acting industry, and the show has gone right ahead and done a cinematic trailer for her upcoming film. Yes, this is very real.
We've been waiting with bated breath for Moira Rose's big return to the silver screen, and the team at very-real-and-serious production house Interflix have finally given us what we so desire – Moira's return in The Crows Have Eyes 3: The Crowening.
The trailer – which is a whole 48 seconds of Moira Rose's impeccable acting prowess – depicts the crown jewel of the worldwide acting community as Dr Clara Beatrice Mandrake; a respected ornithologist (bird expert) with an ad-libbed middle name, walking through a field with her colleague Nathanial before they're swarmed by a murder of crows.
Moira Rose, an active member of the Schitt's Creek Jazzagals and the owner of an impressive collection of wigs, began working on TCHE3 in early 2019 in Bosnia, after a reasonably successful run of appearances at local events around Schitt's Creek including Asbestos Fest, lending her celebrity to Herb Ertlinger's Fruit Wine, and a notable role in hit daytime TV program Sunrise Bay as lead bitch face, Vivien Blake.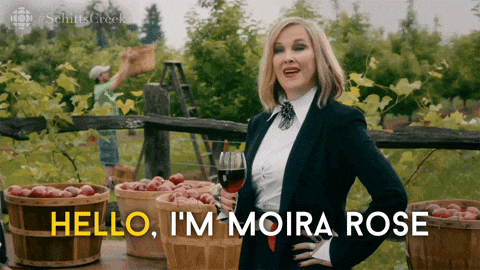 We don't know too much about her counterpart, Nathanial, and I can only assume that the crows were trained birds from around the filming locations in Bosnia. The film may or may not end with a "crowpocalypse" but we're told that both Moira's children David and Alexis were sworn to secrecy after reading the script.
The film may have been previously shelved but its premiere is incoming (in episode five, due out February 4 in the US), the short trailer is here with a looming, daunting message; the crows have eyes, and you better not look them in it.
Chilling stuff and incredible acting work here from Moira Rose, who I expect will be at least nominated for one Academy Award. Or maybe at least a Daytime Emmy. Maybe a Logie for International Star.
Check out the trailer below, for your consideration.
there was a time when the crows were our friends…#TheCrowening #ISeeDarkness pic.twitter.com/AvCzVJ3TjZ

— Interflix (@interfIix) January 28, 2020
The sixth and final season of Schitt's Creek has begun in the US, with episodes airing weekly. We'll keep you updated on when it finally hits Aussie screens.