After months of speculation and divination to find the answers, it has been confirmed that Sarah Paulson will not play a lead role in the upcoming new season of American Horror Story (AHS).
While the actress has not officially backed out of the series altogether, Variety reports that she will not appear in a significant role, meaning it's a slight possibility that she may still cameo.
This is a devastating blow for big AHS stans and will be a heavy loss to the season as Paulson has played a lead role in almost all of the previous seasons, barring season one where she appeared in three eps.
In total, Paulson has portrayed 11 characters including medium Billie Dean Howard, reporter Lana Winters, supreme witch Cordelia Goode, conjoined twins Bette and Dot Tattler, Hotel's Sally McKenna, Roanoke's Shelby Miller and Audrey Tindall, Cult's Ally Mayfair-Richards and Manson follower Susan Atkins and lastly Wilhemina Venable, outpost ruler in Apocalypse.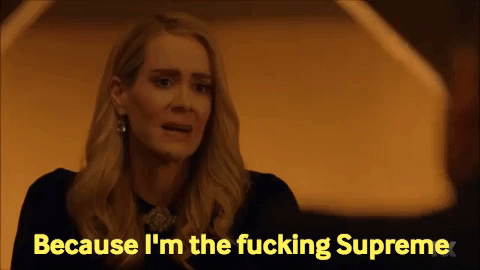 4eva
Fellow series mainstay Evan Peters had previously said he will not be in season nine either.
While speaking to an Extra reporter at WonderCon, Peters responded "No" when asked if he was "involved" in the new season.
"No, I'm going to sit a season out," he said.
The theme of season nine is 1984 and will take viewers back to the '80s with a good 'ol slasher vibe.
The only confirmed cast members are Emma Roberts (surprise bitch!) and Olympic medalist Gus Kenworthy who will play her character's boyfriend.
Season nine is set to drop in the States on September 18 and if history is any guide, it should arrive in Aus at some time around then.
Get ready, witches!
don't freak out but @ahsfx comes back on september 18 pic.twitter.com/WU8dcykMIL

— FXNetworks (@FXNetworks) June 24, 2019