Agent of chaos and man thrumming with the energy of an uncle who can't keep a secret, Russell Crowe has gone rogue and just spilled the beans on his huge role in the upcoming Thor: Love An Thunder. If you listen hard enough you can hear a media manager having a mild freak out in the distance.
Obviously, with Rusty going rogue and just straight up talking about his yet-to-be-officially-revealed role in the Thor film that's currently filming in Sydney, there's some spoilers ahead. If you don't wanna be spoiled for the incoming MCU film, then maybe just quit out of this story and resume your doomscrolling.
No seriously, get out of here if you want to keep yourself unspoiled until the movie drops next year.
Russell jumped on an interview on Melbourne's JOY 94.9 this week to chat about his time filming the Taika Waititi-directed film, and told hosts Anna and Dean Murphy that he was on his way to his last day of filming after the interview.
Finishing off the chat, Rusty just casually dropped his pretty solid role, noting that he had to go and have his hair curled for his last day as Zeus, the Greek god of the sky. So essentially similar to Chris Hemsworth's norse god Thor, but older.
"I'm gonna get on my bicycle, I'm gonna ride up to Disney-Fox studios, " he said.
"I'm gonna get the hot tongs out, and round about 9:15 I shall be Zeus in Thor 4.
"It's my last day of Zeus-ing about, and I'm gonna enjoy it."
Hooly dooly that's a bit of a decent gig you've got there, Rusty. Like this isn't just some bit role where you're just some gruff barkeep telling off Thor for wrecking all his pint glasses. You're the big, curly-haired Olympian god, mate.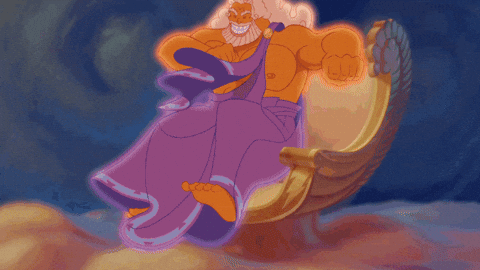 Literally this guy. I love it.
That's about as much as we know about Russell's role as Zeus in the upcoming Thor film. There's chatter around that it's just a cameo role too, so who knows how that'll play out – because I feel like Zeus is a pretty bloody big energy to just be a passing moment like "oh hey, here's Zeus I guess."
Thor: Love And Thunder is part of the Phase Four of the Marvel Cinematic Universe, and is due to be released in the US on May 6, 2022. We'll let you know when an Aussie premiere date is locked in.