Once again, this read is full of spoilers for episode three of RuPaul's Drag Race All Stars 3. If you don't wanna be spoiled then go and have a kiki or somethin' I guess.
Thorgy's been booted, Milk's rapidly turning into tart yoghurt, and there are theories aplenty surrounding Bebe Zahara Benet. It must be that time of week again; halleloo, Mama Ru, it's time for our weekly rucap of RuPaul's Drag Race All Stars 3. If you want to watch along, the whole season is being streamed same-time at the U.S. over on Stan.
Courtney Fry: Okay first of all, I know Milk's getting the villain edit here but goddamn, I am so over her being so sour. Like damn, I didn't think I was lactose intolerant, but maybe I need to go get checked.
Alasdair Duncan: There is such a HUGE difference Season 6 Milk and All Stars 3 Milk that I'm starting to wonder if they're even the same person. I miss the scrappy underdog who would wear fake beards and bald caps on the runway. This new Milk seems to think she deserves accolades from the judges just for showing up and serving under-cooked looks. It could be that, outside of the competition, she has surrounded herself with a lot of 'yes' people and maybe lost a bit of perspective. The producers are definitely encouraging her shady behaviour to get a good villain edit out of her, but damn, the old Milk was a lot more fun.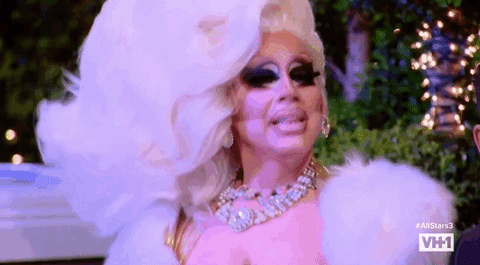 Courtney: In saying that, I think Kennedy was a bit stubborn with her criticism of Thorgy's farewell message (a lipstick-smeared dick and balls on the mirror with a note reading 'suck it Shangella'). Like girl it's not RuPaul's Best Friend Race, I can tell you that much for free.
Alasdair: After Milk and Kennedy trade some barbs in the workroom (I wonder what kind of conflict the producers could possibly be setting up?), the queens are off and racing, straight into the maxi challenge, which looks like an absolute DOOZY. They'll be performing a parody of The Bachelor, where they'll have to get into character to win the heart of UnREAL hunk and tall drink of water Jeffrey Bowyer Chapman. Does anyone remember when they did an actual gay version of The Bachelor and it was a huge bust? Just me? Well, I'm pretty sure The Bitchelor is going to be a hundred times better.
Courtney: The maxi challenge this week is improv-based – I wonder who's going to win this one??? How is it that they've presented another challenge that plays to BenDeLaCreme's strengths?
Alasdair: All Stars 3 is rapidly turning into The DeLa And Shangela Show, but I mean, they're both talented comedy queens and they're super fun to watch, so I'm not complaining. After getting the challenge, the queens are given stock Bachelor characters and told which stereotype they'll be portraying. I can totally see Aja owning the role of a needy girl, because that was her entire persona in Season 9. I'm a bit surprised that Trixie has been such a muted presence on this season so far, because she's funny and charismatic as hell on Unhhhh, so hopefully the fake bitch character will be her time to shine.
Courtney: I do love how they've blended Drag Race and UnREAL together with this challenge; mocking up their own ridiculous reality tropes and ad-libbing the hell out of a Bachelor-style episode. Big players here for me were DeLa (are we surprised?), Trixie (when she wasn't being pissed off by whatever the fuck Milk was trying to do), and Kennedy's drunk bitch enactment. I actually laughed out loud at Kennedy. Who did you think performed well?
Alasdair: I loved this challenge through and through, and I love how faithfully Drag Race followed the Bachelor template, from the awkward limo introductions to the sexually-charged group date to the rose ceremony, which was an eggplant ceremony, because of course it was. It's essential for queens to be quick on their feet and come up with funny banter on the fly, and The Bitchelor really showed us who's got it. I knew that DeLa would be funny, but her cougar character was hysterical and her running gag of trying to feed Jeffery mashed banana totally made the bit. I also loved Kennedy's character – anyone can play a messy, drunk bitch and get a laugh, but she took it to the most extreme place possible. I loved her ginormous tits and ass and I love how she just went for the physical comedy. It'll be tough to beat DeLa's mashed banana, though.
Courtney: Those who missed the mark for me were Milk, Aja, and Bebe. Milk's character was so over the top, and a stalker wouldn't work like that tbh. Aja was clingy, which I guess can be translated as insecure, but it just didn't sit right for me, and Bebe seemed to just get massively overshadowed by DeLa.
Alasdair: Trixie came up with a great character, and her schtick of saying one thing into her phone and another to Jeffrey's face really worked a treat. She might have actually had a real shot at winning the challenge if Milk had let her get a word in edge-ways. I'm furious on her behalf that Milk steamrolled over her performance, and I reckon it's Milk's time to go. As for the rest – if there's a way to make polyamory funny, Shangela and Chi Chi did not find it. I liked the idea of Shangie ogling Jeffrey's junk in the hot tub, but that was about it. Jeffrey himself was a great scene partner and very funny throughout, and he tweeted this this morning to his boyfriend and now I am swooning so hard I may actually die:
https://twitter.com/JeffreyBChapman/status/962069506725048320
Courtney: Ooh can we talk about that big Handmaid's Tale theory around Bebe? Okay, so according to a few wild theorists on the RuPaul's subreddit, the whole Handmaid's Tale recurring theme of Alaska and Chad showing up hauntingly behind eliminated queens points to the idea that someone – apart from us viewers – is watching the queens at all times. Considering Bebe was the 10th queen introduced and is actually a crowned winner (which directly goes against the premise of All Stars), it's hotly rumoured that she's actually a mole for the judges. She'll coast through every challenge and runway as a 'safe' queen, and when it gets down the the nitty-gritty, she'll whip off her wig revealing her true self – an all-seeing, all-knowing wolf in sheep's clothing and assist with the final ruling of who will end up in the Hall Of Fame. It's complicated, but my god is it plausible.
Alasdair: I've heard this theory about Bebe, but I'm not the biggest fan. If it's true, then it puts the other girls on an uneven playing field, and robs Bebe herself – a super talented queen – of her chance to compete for the crown, which she could easily snatch again. That said, I haven't seen The Handmaid's Tale yet because I've been too busy bingeing Real Housewives, so it might be plausible. Ooh, if Drag Race is doing reality TV parodies now, how good would a Real Housewives episode be? Lisa Vanderpump could be a guest judge. I would die. I would … wig out.
Courtney: Speaking of wigs (on wigs on wigs,) how did our goirls go in this week's category?
Alasdair: The Roxxxy Andrews wig reveal was one of the most iconic moments in Drag Race history, so tonight on the runway, the girls have to come up with a wig reveal of their own. That's a great idea, and the more creative queens amongst the bunch are going to have a lot of fun with it.
Courtney: Just to go back on a point you made in one of our last recaps, I do really like how they're spending a lot of time of the chat in the workroom while the girls are beating their faces. It helps us to see more of the intricacies of the relationships forming and breaking down as the competition progresses, and we get to see a lot of the queens when they're at their most vulnerable.
Alasdair: The workroom stuff is great, especially in light of the fact that parts of this season have felt very scripted, or at least lacking in spontaneity. Last week, for example, Ru assigned the queens their characters and their music and all they had to do was lip sync in costumes they clearly brought from home. This is All Stars, people, Ru should be making the girls do things from scratch like in the old days when they'd have to make do with whatever they found in a thrift shop or a dumpster. Ugh, listen to me, I am being such an old man about this. Back in my day, the queens would have to walk fifteen miles through the snow …
Courtney: Okay so literally all of these runway looks were amazing. Aja's anime/Harajuku-infused plastic vibe with three wig reveals? Consider me fucking gagged and scalped. DeLa's ~wig reveal~ shows she's thinking outside of the box and challenging the challenge itself. I can see her in the top two for the third week straight here.
Alasdair: DeLa is top three for sure. I love the fact that Shangela's outfit is a play on her corn cob monstrosity from back in the day, and I love that Trixie is serving what she describes as a "Dennis The Menace fantasy" look. I'm not trying to shit all over Milk here, but 60s-inspired look is not as polished as the others, and honestly, after criticising Kennedy for covering herself in sparkly diamantes, she's chosen to festoon her face and body with what looks like post-it notes. Why? Send her home. Sorry, I'm done.
Courtney: BEBE'S SAFE AGAIN, THE THEORY PROVES TRUE.
Alasdair: The judges think that Aja missed the mark with her needy girl character, and I guess she played the character as more of a spoiled brat, but it's a fine distinction. I also love that her reference point for her needy girl was Farrah Moan. That's some excellent shade. It's a bit surprising to see her end up in the bottom three alongside Milk and Chi Chi, as she was better than either. There's no way she's going home this week. I think she's low-key becoming a real contender, and she has her shit so much more together than it was on Season 9.
Courtney: I do like that Aja's rebuttal wasn't in any way bitchy toward the judges, it was more of an "ok I see how I've fucked this up, I obviously got things wrong here and I was clearly trying to give you the wrong thing." It's actually nice to see a queen accept and understand their fuck ups and be genuinely humble about it.
Alasdair: Chi Chi has missed the mark week after week, which is a pity, because she has such spirit and sass and she's such a strong performer. What's worse is that she knows she keeps fucking up, and she seems defeated when she ends up in the bottom three again. I want to reach through the screen and give her a hug at this point, and though she seems ready to go home, I suspect that this is not her week, and I'll be stunned if anyone other than Milk goes home after the lip sync. Speaking of, Kennedy is top two alongside DeLa, and they're lip syncing to Lorde. Thoughts?
Courtney: DeLa is absolutely mopping the floor with this competition here. Holy hell. I can't even imagine how stoked Lorde must be watching two phenomenal queens lip-syncing to 'Green Light', Christ what an honour.
Alasdair: Bob The Drag Queen is a known Lorde-hater. In a bar or club somewhere, Bob is watching this performance and hating it, and in a different bar or club somewhere, Thorgy Thor is watching this performance and knowing how much Bob is hating it. This lip sync is pretty close, but Kennedy has just managed to edge out DeLa aaaaaaand, to nobody's surprise, decided to send Milk home. Tracy Martel is literally the only person who is shocked to see Milk go.
Courtney: Milk was not playing her strongest game, and pissing off Kennedy earlier on was a bad move. It was time that off skim got tipped down the sink. Byeeeeee.
Alasdair: Would you say there's no use crying over … spilled Milk? But seriously, with only seven queens remaining at this point, I'm starting to get concerned over whether we'll get a Snatch Game this season. There are too few girls left, so the only option would be for Ru to bring back all the eliminated queens and have them fight it out with their best celebrity impressions. I can't wait to see what next week has in store.