Ever wondered what it's like to work for infamous PR maven Roxy Jacenko? Well thanks to Channel 10's pilot week, you'll still be very much in the dark, but at least you'll be somewhat entertained.
Jacenko has convinced the powers that be at 10 to spin her life (or at least her version of it) into a TV series called I AM ROXY.
In the first teaser, we're given a heavily edited glimpse at what life is like inside the PR supervillain's lair, otherwise known as Sweaty Betty HQ, and despite the fact that, again, the show is completely contrived, Roxy still manages to live up to her tough boss persona.
It begins with a confessional where Jacenko reveals that she sacked three employees last Chrissy because they failed to live up to her high standards.
"I'm not in business to make friends," she declares. "If I'm not tough enough, and I don't pull you up if you're not delivering, well I'm not doing my job as your boss."
Jacenko can then be seen heading a meeting where her minions discuss ideas about how best to market magnetic eyelashes.
A bright-eyed and optimistic employee pitches a bunch of ideas to her new boss (yep, it's also her first day as a Sweaty Betty), only to have them shot to hell in front of her new colleagues who appear to be quivering in their designer boots.
She concludes, "It bothers me that everybody looked at me vaguely when I just said give me stylist names. Like fucking wake up."
Have a go at the footage here.
The thing is though, brutally rejecting an employee's ideas on her first day and swearing at staff is harsh but totally normal for any PR firm (and most other businesses, for that matter).
When whipping up teasers to market new shows, TV producers usually extract the most savage scenes and if the best they can muster from I AM ROXY is this heavily edited and watered down back-and-forth, I don't really have high hopes for the rest of the season.
Shows like this generally work best when it's a Big Brother format with cameras hidden wall-to-wall, unveiling every gruesome detail without the subject's input on the footage.
That's when the real magic happens.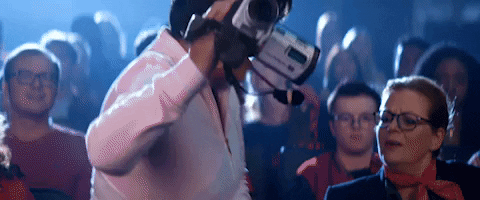 But who knows, maybe they're holding out on us and some grade A drama is hidden within the eps.
See for yourself when I AM ROXY premieres on Channel 10 on September 11, as part of Ten's Pilot Week.
Image: Getty Images