Any Real Housewives of New York fan worth their jellybeans will absolutely know who Alex McCord and Simon van Kempen are. The elite couple appeared on the debut season of RHONY and stunned audiences with their eccentricity for four whole seasons until being booted and subsequently moving to Byron Bay in Australia (v. random, I know, but bear in mind that Simon is an Aussie, so).
But as if being incessant social climbers wasn't seedy enough, just wait until you fucken' read an excerpt from that parenting book that they wouldn't shut up about for the first few seasons of the show (the one with the chapter about the well-meaning moron).
In the 2010 book, titled Little Kids, Big City, the parents discuss the birth of their first son, François, and in it, Alex reveals that her husband, get this, EJACULATED ON HER while she was giving birth.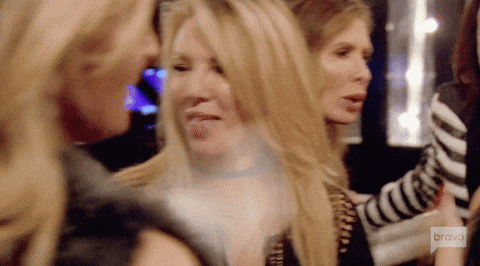 Have a read of the excerpt below, if you dare:
"Once he was finally out of my body, I experienced a tsunami of endorphins that was almost orgasmic, and I understand completely the stories other women have written about ecstatic birth. Simon was sitting behind me at the point of birth, and later when we untangled ourselves he discovered he'd actually ejaculated though hadn't felt any of the normal lead-up to that. It may seem distasteful to some, and definitely neither of us was thinking of sex at the time, but with the rush of emotion and my lower nerve endings going crazy, it's not too far a stretch to say that it's a profound experience."
The chapter was referenced in a 2012 Jezebel article and said article has been resurrected on Twitter for all to see (and wretch at) via one of my all-time favourite Real Housewives stan accounts, Bravo By Bob (also check out his Insta here, it's fkn GOLD).
I also absolutely agree with his suggestion of JAIL for these two. JAIL, I say.
JAIL pic.twitter.com/JlksoenHwY

— Robert Tremont Morgan (@BravoByBob1) February 16, 2021
Alex McCord and Simon van Kempen, or as I like to call them: the Gruesome Twosome, truly are the gift (or curse?) that keeps on giving.
Now if you'll excuse me, I need to go seek therapy and / or Ramona Pinot Grigio to deal with this: