She's a perfect, poised goddess on the red carpet but when the weekend comes Reese Witherspoon likes to kick off her heels and get down… literally.
[jwplayer PGBzGAO6]
The actress was among a slew of A-listers who attended the 50th birthday bash of Jennifer Aniston at the Sunset Tower Hotel in Los Angeles on Saturday.
According to a social media rant by Katy Perry, there was a strict "no social media" rule imposed by Aniston and therefore very few pics of partygoers can be found online, aside from these absolute gems of Witherspoon exiting the event.
Sneaky paps captured the actress fumbling down the stairs, presumably after one too many bevvies, as she made her way to the exit. She then gets up unscathed and continues out to her vehicle like the absolute party queen that she is.
Cop the life-giving JPEGs via The Sun.
As the pics started to do the 'rounds on social media, commentators have labelled her 2019's mood and literally same.
https://twitter.com/beck_sullivan/status/1094734449252610050
https://twitter.com/anistonromanoff/status/1094693017808785409
Reese Witherspoon leaving Jen Aniston's birthday party is like a whole big mood & I love it

— State of Grace (@grtapert) February 11, 2019
@RWitherspoon falling down the stairs at Jen's party is me when I see what mark I got for my German test next week 😂 ohh lord I hope she is okay. pic.twitter.com/OIt1YO5EEV

— kíra (@ANISTONXBULLOCK) February 10, 2019
https://twitter.com/_FriendsCentral/status/1094675236828692481
People reports that party guests included Brad Pitt, Gwyneth Paltrow, John Mayer, Katy Perry, Orlando Bloom, Lisa Kudrow, Courteney Cox, David Arquette, George and Amal Clooney, Reese Witherspoon, Robert Downey Jr., Ellen DeGeneres, Barbra Streisand, Keith Richards, Kate Hudson, Laura Dern, Demi Moore and Jennifer Meyer, to name just a few.
Paltrow and Hudson broke Aniston's no social media rule by sharing the following GIFs from the event:
It was then that Perry dropped the dime on Aniston's social media ban as she wrote "NO SOCIAL MEDIA" in the comments section of Hudson's post.
The Almost Famous star confirmed that she had gotten "permish" for the upload, presumably via Aniston herself.
Unfortunately the no social media ban wasn't enough to save poor ol' Reese's end-of-the-night antics from being caught on cam tho.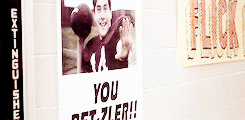 reese after seeing the pics circulate