If you're a sucker for punishment – because we all know that seven seasons of nothing but plot holes that you can't seem to stop watching is absolutely punishing – then surprise, more info for the Pretty Little Liars spinoff has been revealed and yep – it's a 10-episode series set to air in 2019, because it's what we all deserve. Seriously, give it to me now. I wanna eat that teen-thriller-drama shit up right now yum yum.
Pretty Little Liars: The Perfectionists is an adaptation of the novel 'The Perfectionists' by Sara Shepard, and I. Marlene King returned to wreak havoc as the pilot writer and will be executive producer.
The series follows shady girls Alison DiLaurentis (the one that died in PLL but also didn't die????) and Mona Vanderwaal (the one who couldn't decide whether she was on the PLL girls' side or not) as they endure life at college in Beacon Heights.
A town full of perfectionists and over-achievers that seems like it's an ideal town to live in until someone is murdered and each of the three perfectionists is existing behind the masks of alibies, lies, and – shock horror – SECRETS.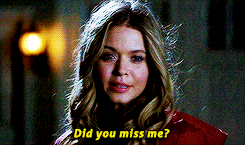 Soooooo yeah it's pretty much PLL 2.0, because seven seasons and 160 episodes wasn't enough. There's no hint as to whether there will be a character similar to A – but someone had to do the murder, right?