If there's one thing I care to remember about the Noughties, it's Paris Hilton's phrase "that's hot". The two words are damn iconic, and as anyone who watched The Simple Life knows, it didn't necessarily mean something or someone was physically / sexually attractive. It was simply Paris' way of voicing her appreciation.
[jwplayer QunZUtZ4]
Which is precisely what Paris has gone and done on human angel Millie Bobby Brown's Instagram account, after the 15-year-old Stranger Things star posted a pic of herself in a leopard print frock.
https://www.instagram.com/p/B4M_6b1nQ76/
She commented: "That's hot" with a heart emoji, prompting Millie's other followers to point out that such a comment is maaaaybe not 100% appropriate given her age. One such commenter was Westworld star Evan Rachel Wood — check out the exchange below:
Other commenters chimed in with: "She's only 15 chill!" and "She's a child, stop" and "You are almost 40, ma'am." But others were there for Paris, with one pointing out: "Some of y'all haven't seen The Simple Life and it shows."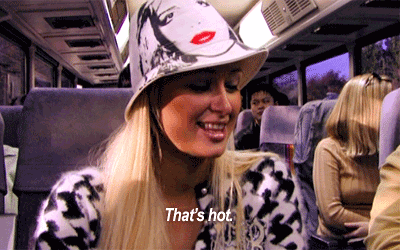 According to People, another user even went one to explain the etymology behind the phrase "that's hot", saying: "Anyone familiar with [Paris Hilton] knows that the phrase 'that's hot' just basically means 'that's cool' or to show appreciation for something you think is awesome."
Look, I know in my heart that Paris was just being Paris, but can also see that people would take it the entirely wrong way. For now, the comment is still up and neither Millie nor Paris have responded.