Remember that scene in Titanic where Rose told Jack, "draw me like one of your French girls"? Who am I kidding? Of course you remember that scene, it's bloody iconic.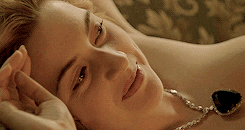 Anyway, I'm pretty sure I'm in good company when I say that, ever since watching that ~steamy~ scene as an awkward teenager, I have wanted to do a nude drawing class. But, where the heck does one even do nude drawing if you're not on board the Titanic circa 1912?
Well, you'll be delighted to know that there's a nude drawing class happening in Sydney VERY soon as part of PEDESTRIAN.TV's Selfish Weekend presented by the House of Angostura held at La Porte Space on March 16 and 17.
And before you ask, no, you don't have to drop your dacks to get in on the action (phew!). You just get to arrive, sit back and do the funky drawing.
Of course, no nude sketch sesh is complete without a Leo-worthy hunk, and this class is gonna have ridiculously good looking fireman present, from Men on Fire, to trace until your heart's content.
See here:
Oh, and what's this? Another snap? Go on, then:
Anyone else getting some serious Magic Mike vibes right now? 'Cos I am, but I digress.
For those craving a little more ~variety~, you'll be glad to know it's not just shirtless fireman you'll get to sketch, no sir. This nude drawing class features a slew of other muses repping all shapes, sizes and genders.
Will there be bewbs? Yup. Pubes? Absolutely! You name it, it's there.
In short, this class is basically one big celebration of naked bods in all their fleshy, hairy glory.
As with any new, fun and artsy event in Sydney, tickets are set to sell out fast. So go ahead, round up your mates and nab yourself a place as this incred class while you still can, with tickets on sale right here.
Image: Instagram / [@menonfireaustralia]