Looks like June is going to be a spicy month because Nick Offerman has now dropped a run of shows in Australia, following hot on the heels of his incredibly funny wife, Megan Mullally. How did we get so lucky to have both Ron Swanson and Tammy II in the country at the same time?
[jwplayer biRmy4fP]
Nick Offerman's tour of his brand new live show, ALL RISE is landing in Adelaide on June 2, before he takes off around the country for the month, hitting Perth, Melbourne, Canberra, Hobart, Sydney, and Perth. He'll then duck over to New Zealand for a couple of sneakty shows in Auckland and Christchurch to round it all out.
This year's tour will be the first time that Nick Offerman has been in Australia since his tour back in 2016, so it's safe to say that we're well overdue for a visit from the bloke who made a grouchy moustache famous.
ALL RISE has Offerman taking you to his church for an evening of "deliberative talking and light dancing" which honestly sounds like something that Ron Swanson would get up to after a few too many brewskis.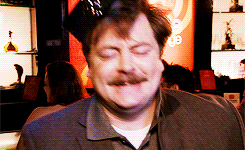 Back to the whole in-the-country-at-the-same-time-as-Megan thing. So the last time Nick Offerman was in the country, it was meant to be with Megan. They were meant to bring their show Summer Of 69: No Apostrophe to us, a feverish night of hilariously offbeat sex-ed that absolutely would not qualify for inclusion in any high school curriculum. But Megan had to pull out at the eleventh hour due to film commitments.
So does this tour that very conveniently coincides with Megan's tour dates mean that we might get treated to a one-off edition of ~The Talk~ from everyone's funny and inappropriate Mum & Dad? I mean, we can only cross our fingers and hope.
Dates for all of Nick Offerman's shows are below, and tickets go on sale from 2pm February 7 over on the LiveNation website.
Thebarton Theatre, Adelaide
Sunday, June 2
Crown Theatre, Perth
Sunday, June 5
Palais Theatre, Melbourne
Saturday, June 8
Canberra Theatre, Canberra
Wednesday, June 12
Wrest Point Casino, Hobart
Friday, June 14
QPAC Concert Hall, Brisbane
Friday, June 21