With all the time in the world Netflix and chill (or, at this rate, Netflix and also more Netflix), surely we're getting to a point where we're exhausting our options. There's only so many times I can watch Uncut Gems before I, too, grow in a goatee and start murmuring "this is how I win" at inanimate objects around the house. Thankfully Netflix has dropped its May list of everything coming to the stream next month, so I can finally move on from Adam Sandler's Furby bling.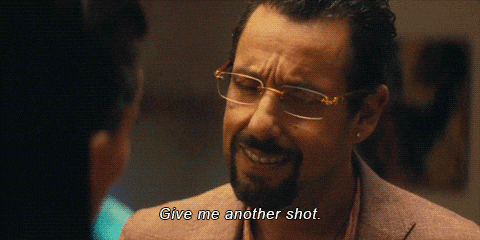 From standup specials from Hannah Gadsby, Patton Oswalt and Jerry Seinfeld (cool!) to keep us giggling in our but grooves to releases like The Half Of It, new Unbreakable Kimmy Schmidt, Dead To Me, and the first look at Steve Carrell in Space Force, it looks like we're in for a very slick month of couch time with Netflix in May.
If you're keen for some more true crime to keep your brain ticking over, you'll be stoked to know that new offerings like Trial By Media will what that appetite of yours.
Or you could just go real cute and watch a bunch of adorable and smart kids spell for their lives (?) in Spelling The Dream.
Check out all the new releases coming to Netflix in May below, and organise your (probably empty) calendar accordingly.
What's Coming To Netflix Australia In May 2020
May 1
All Day and A Night 
Almost Happy – Season 1
Get In 
Hollywood: Limited Series
Into the Night – Season 1
Mrs. Serial Killer 
Never Stop Dreaming: The Life and Legacy of Shimon Peres 
The Half Of It 
Tomorrow, When The War Began
The Edge Of Seventeen
Primal Fear
The Color Purple
Cracked Up, The Darrell Hammond Story
Osmosis Jones
Clash of the Titans
May 5
Jerry Seinfeld: 23 Hours to Kill 
May 6
Rick & Morty – Season 4
Workin' Moms: Season 4
May 7
Scissor Seven – Season 2
The Lovers
Mission: Impossible – Fallout
May 8
Dead to Me – Season 2
Restaurants on the Edge – Season 2
The Eddy – Season 1
The Hollow – Season 2
Valeria – Season 1
Rust Valley Restorers: Season 2
18 regali
May 11
Have A Good Trip: Adventures in Psychedelics
Trial By Media – Season 1
Bordertown – Season 3
May 12
Unbreakable Kimmy Schmidt: Kimmy Vs. The Reverend – Interactive Special
May 13
The Wrong Missy
May 14
Breaking In
May 15
Chichipatos – Season 1
White Lines
She-Ra and the Princesses of Power – Season 5
Magic for Humans – Season 3

Dérapages
Te quiero, imbécil
National Lampoon's Vacation
Kangaroo Jack
Human Nature
The Butterfly Effect
May 18
The Big Flower Fight
May 19
Patton Oswalt: I Love Everything
Sweet Magnolias
May 20
Ben Platt Live From Radio City Music Hall
The House with a Clock in Its Walls
May 22
History 101
Selling Sunset – Season 2
Trailer Park Boys: The Animated Series – Season 2
Control Z
The Little Rascals
THE LOVEBIRDS
May 23
Spelling The Dream
First Man
Halloween
May 26
Hannah Gadsby: Douglas 
May 27
The Kitchen
I'm No Longer Here
May 29
Space Force – Season 1
Somebody Feed Phil – Season 3