If today's suddenly felt a little bit off, or nothing's going quite right, then it's not just you. Well, I mean it might be you but let's just go ahead and blame the fact that as of today, Mercury retrograde has kicked in again – and will be in full effect until the start of next month.
[jwplayer UXZjyRmZ]
Mercury hit its retrograde direct station on July 7 and now begins tracking backward through Leo for the remainder of the month. Traditionally affecting the headstrong and dominant, like global leaders, companies, and people in positions of authoritarian leadership.
It's also a big disruptor of communication with those around us, so if you feel like you're not being heard at work, someone's not texting you back, or nothing you're saying seems to be making any sense, shake your fist at the evening star until it gets better, I guess.
Although there's a lot of fear and "oh fuck here we go again" around Mercury in retrograde, there's also a whole chunk of good shit we can take from it.
I know we've gabbed on before about how much The Pattern has been a kinder, more constructive sibling of Co-Star (which just seems to routinely gaslight me?) but its approach to this trip around the bullshit Mercury retrograde helped me think about it all in a way that will ultimately benefit me emotionally.
I mean sure, there's probably going to be some idiots from your past showing up unannounced to give it one last red-hot go, but we're all better than that, right?
Anyway, where you feel like you can't communicate effectively with others, or everything's hit the fan, it's a good time to instead check in with yourself – because if there's one person you can chat with complete ease, it's your own self.
It's always good to remember that Mercury retrograde doesn't only apply to you, everyone's feeling the frustrations. It's all about reminding you that not everything in life and our universe is logical or follows a linear path. It's a perfect time to let your mind get a bit creative, and really exercise the right-hand side of your brain that you probably don't let wander now you're working full time or bogged down in essays and spreadsheets.
Though we're always warned not to start anything new during a Mercury retrograde, I say bugger that – go to a pottery night or try a dance class. Who cares if it won't last, at least you're switching off your logical brain for a bit.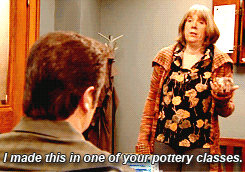 In saying that, now is not the time to start anything significant that you want to stick with for the long-term, like a new job or any kind of serious contract. Or ignore the dumb planets do it anyway but know that it probably won't look the same, or follow whatever path you're expecting it to.
At the end of everything, you've only gotta stick it out for a couple of weeks before everything goes back to our assumed perception of "normal". Between now and then, take some time out for yourself to set some goals and intentions for the rest of the year, because this is the best time to let your noggin and your heart have a chat.
And as for the retrograde, let's just hope it'll jank up Donald Trump's plans for the rest of the month hey?