Disney's Maleficent II is officially in production with the brilliant Angelina Jolie and Elle Fanning reuniting on set.
The sequel, which is reportedly set a few years after the events of the first film (2014), will continue to explore the complicated but loving relationship between Maleficent and Aurora who is set to become the next Queen.
Michelle Pfeiffer will co-star as Queen Ingrith alongside Harris Dickinson as Prince Phillip. 
In case you don't remember, the first film told the story of a young Maleficent – a happy, happy fairy living in an enchanted forest kingdom. When said forest comes under attack by humans, Maleficent becomes their glorious protector. Along the way, she meets a wee human lad named Stefan who after learning iron burns her, chucks his bracelet into the woods as a sign of friendship. The two fall in love but eventually grow a part because Stefan wants to be all cool and royal and so does everything to serve the King.
The King's dying wish is for Maleficent to be killed and whoever does so shall become his successor.  So Stefan runs off to do just that… except he can't bring himself to it so instead he drugs Maleficent, cuts off her wings with iron and runs back to the dying Henry to become king.
Maleficent wakes up extremely pissed off, goes full emo, and wishes nothing but the worst on King Stefan who marries and has a baby daughter named Aurora. The rest you'll know from the Sleeping Beauty fable.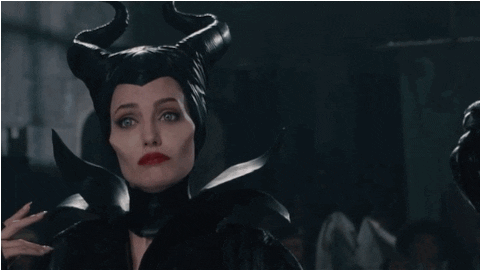 OOOFT.
Back on set, Fanning posted two snaps to her Instagram with Jolie and both will warm your hearts.
Fanning also posted this ultimate photobomb:
Maleficent's official twitter account posted a pic off production and everything just looks so damn magical:
#Maleficent2, starring Angelina Jolie, Elle Fanning, and Michelle Pfeiffer, is now in production. pic.twitter.com/bQ0oVaeI2k

— Maleficent (@Maleficent) May 29, 2018
No word yet on a potential release date but we'll keep you updated.
Meanwhile, Fanning's sister Dakota has a new show called The Alienist and you can find it on Netflix. 8/10 binge-worthy recommended by yours truly if you're into period-drama-psychological-thriller-gruesome-slightly-scary- crime-solving shows.
The Alienist also co-stars Luke Evans who plays illustrator and amateur sleuth John Moore and Daniel Brühl as Dr Laszlo Kreizler – a brilliant but thoroughly fucked up criminal psychologist.
You can check out the trailer below:
Image: Instagram / Elle Fanning