As 2018 starts to wind down and we take a look back at the year that was, we're reminded of all the cooked shit that went down over the past 12 months.
One such event that particularly stands out for me is that time when Lindsay Lohan Insta-Lived herself trying to kidnap homeless children who she believed to be "Syrian Refugees" on the streets of Moscow, only to be decked by their mother and left howling on the ground.
what is happening… lindsay lohan tried to kidnap two refugee children because she thought the mom was trafficking her children she then was punched by the mother wow… pic.twitter.com/WYvchUqVNh

— ryan (@pIasticspice) September 29, 2018
Now, in the interview accompanying her new Paper Magazine cover, Lohan says she wishes she could take the incident and "erase it and throw it in the trash."
She dances around the question for a while, obviously wanting to avoid the subject altogether because, well, it was a shitshow.
"There's actresses, there's several of them to my knowledge that don't use Instagram or Twitter," she says. "But I feel like you sort of have to. It's your way of controlling the narrative.I recently made the mistake of having my phone recording live video, and that I learned from".
"But I think it's also important because if you're doing something and you want to give direct access to your fans, you can contact them and see their thoughts and get an opinion. Whereas in the past, you didn't have any control over it."
When pushed further on the matter, she says that she's "too tired" to talk about what happened and vows to email through a statement later on.
She eventually has her publicist shoot through the following response from her: "I've read the situation wrong. I've learned from it. And that's all I have to say."
I guess that's all ya need to say, Linds, we all know what went down. Instagram Live is funny like that, innit?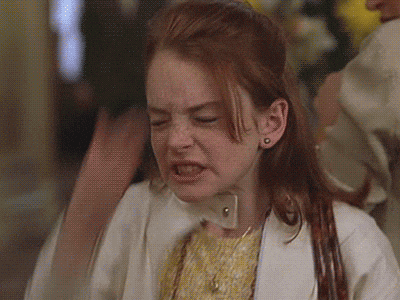 Image: Getty Images