Bradley Cooper may not have scored an Oscar nomination for Best Director but he's an absolute winner in the eyes of his co-star Lady Gaga.
[jwplayer sNd5cmTH]
The IRL Ally, who scored two nominations for her role in A Star Is Born, has spoken out following the heinous news that Cooper was not nominated for his directorial debut.
"You never know what's going to happen. But at the end of the day, he knows that he's the best director in my eyes, and in all of our eyes as his cast," the singer said during an interview with the Los Angeles Times after the nominees for the 2019 Academy Awards were announced.
"I know that he's so happy that we've all been nominated and that the film was recognised and we all feel really, really beyond elated for the recognition."
Sure, Brad wasn't recognised in the director category but the film was far from a failure, having scored an amazing eight nominations including Best Picture, Best Actor In A Leading Role, Best Actress In A Leading Role, Best Actor In A Supporting Role, Best Original Song, Best Sound Mixing, Best Adapted Screenplay and Best Cinematography.
Not a shallow result at all, I reckon.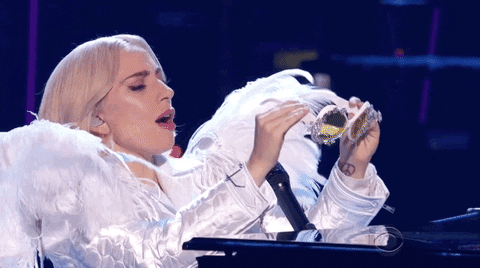 Gaga added that she was "so overwhelmed and happy" when she found out that she is now an Oscar-nominated actress. She told the Times that her manager was on the horn to her first thing in the morn after she woke up to spill the tea. Her fiancé, Christian Carino, also left her a note congratulating her on the epic feat.
"I just started crying," she said. "There's really no award that is more esteemed than the Oscar in acting, and for music, it is also extremely special."
She also said that she would love to perform 'Shallow' at the award ceremony, having been nominated for Best Original Song.
"We love to perform and we love to make art, so we'll make it happen," she told the newspaper.
"That would be a tremendous honour to perform that song at the Oscars. It was so sweet; I was getting messages this morning from my cowriters, and they wrote something funny: 'Tell me something, boy, aren't you happy we made all that noise?' I think sometimes people forget that even though this is a big movie, we're all really artists that are like kids playing in a sandbox. To be recognised at this level just makes the heart explode, because truly and deeply, I still very much feel like a child with big dreams."