Kar-Jenner fans have drawn a bunch of comparisons between Kim Kardashian and youngest sis Kylie Jenner including the fact that they're the richest sisters, they both own highly successful beauty brands and they both had bbs with famous rappers.
As such, Kylie has followed in her big sister's footsteps by featuring in her beau Travis Scott's latest music video and lemme tell ya, it's just as fkn weird yet oddly satisfying as 'Bound 2′.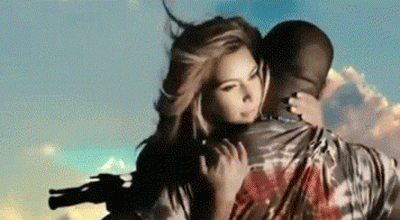 never forget
Jenner features in the music video for her bb daddy's latest track 'Stop Trying to Be God' but unlike Kim's cameo, Kylie is incorporeal and if you blink you'll miss it.
The video begins with the rapper engulfed in flames and as he eventually burns to a crisp, a ghost/angelic-like Jenner can be seen cradling his corpse in her arms.
Creepy stuff, right?
who is she???
Angel Kylie reappears at the end of the video while holding a baby lamb, only a little more thicc this time and completely covered in sparkles and glitter.
I'm assuming that the lamb is a biblical reference (ya know, lamb of god and all that) which would tie into the song's godly title.
my Stormi, you've changed
Strangely for someone who's so vocal on social media, Kylizzle has not said a single word about the cameo. Interesting…
Meanwhile, fans have been a little less than enthused with the reality star's appearance in the vid.
"I hope she never sees the gates of heaven," wrote one savage fan on Twitter.
"She loves being somebody she is NOT", wrote another.
A third angry tweeter wrote: "She should stop dumb people who donate for her to become a "self-made" billionaire."
Cop all the weirdness below: