You can read about it on the gossip sites, you can hear whispers from production sources but a reunion isn't 1000% confirmed until the O.G. cast member(s) speak up and guess what Veronica Mars fans? Kristen Bell just gave us the green fkn light for the much-hyped reboot!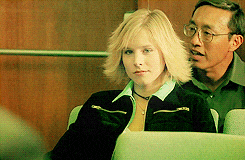 The blonde babe who portrayed the supersleuth in the noughties series shared an Instagram video confirming the news.
"Attention all Marshmallows: BREAKING NEWS!!!!! We are OFFICIALLY back in business!!!" She wrote.
"A new #veronicamars series is coming back, on @hulu !!!!" the 38-year-old wrote on Thursday, September 20, via Instagram, "Veronica has always been a super hero without a Cape. And I think she's exactly what the world needs right now. Thank you to all my fellow marshmallows who stayed excited. Thank you to @hulu for the opportunity. I hope we're still friends after I taser I you. 
."
The beloved series is reportedly copping a revival via an eight-episode limited series at Hulu.
Have a read of the revival's logline below:
"Spring breakers are getting murdered in Neptune, thereby decimating the seaside town's lifeblood tourist industry. After Mars Investigations is hired by the parents of one of the victims to find their son's killer, Veronica is drawn into an epic eight-episode mystery that pits the enclave's wealthy elites, who would rather put an end to the month-long bacchanalia, against a working class that relies on the cash influx that comes with being the West Coast's answer to Daytona Beach."
Director Rob Thomas is taking the reins of the project through Warner Horizon TV, the cable/streaming division of Warner Bros TV, which produced the original series.
In 2013, Thomas and Bell launched a Kickstarter campaign to raise money for a Veronica Mars film as a followup to the series. They originally set a goal of $2 million and eventually netted an incredible $5.7 million. The movie was released in 2014.
Hulu has yet to announce if other cast members are returning for the revival. Jason Dohring, Enrico Colantoni, Chris Lowell, Percy Daggs III and Tina Majorino all appeared in the followup film.
The popular noughties series kicked off in 2004 and ran for three seasons. Despite its short run, Bell was praised for her performance as the teen detective.
Welcome back, queen.