While all eyes were fixed on Kourtney Kardashian's feud with sisters Kim and Khloé and her tumultuous breakup with Younes Bendjima, everyone totally missed a potentially spicy development in the life of another member of the fam and, in my opinion, the most important Kar-Jenner: one Kris Jenner.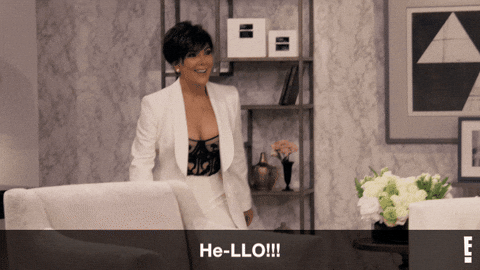 The Momager, 62 has been dating 37-year-old producer Corey Gamble since July 2014 and despite their relationship having its ups and downs over the years, things appear to have heated up lately and the fam matriarch's latest TV appearance may have revealed that he recently put a ring on it.
During a spot on The Late Late Show With James Corden, the Keeping Up With the Kardashians star played Spill Your Guts or Fill Your Guts, a game where celebs are asked invasive questions by Corden and they can either spill their guts and answer or eat something extremely gross.
"Kris, you've been spotted wearing a massive diamond ring on your wedding finger," says Corden. "Are you and Corey Gamble engaged?"
"No," she responds with a giggle.
Corden continued: "You mean, no you're not gonna answer? Or no …"
"No, I'm not gonna answer," Jenner clarified. Then as the camera panned to Gamble who was grinning on the side of the stage, she adds: "This isn't THE ring."
"But there is A ring," Corden responds, to which Jenner giggles.
So to recap, she not only hinted that an engagement ring ~exists~, but she'd rather eat a fkn disgusting, dried up cricket than answer the question of whether or not she's engaged.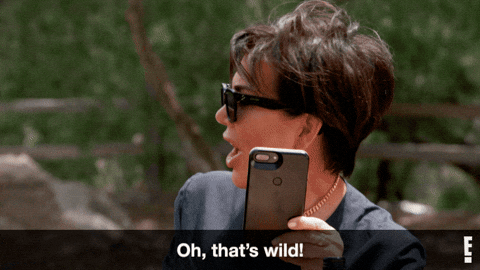 Jenner previously gushed about her boo in an interview with Us Weekly, dishing on how Gamble has become a fixture in her big, famous fam.
"He's great. Corey is so easy and at the same time so smart and intelligent," she said. "He's always one step ahead of me, and he loves the kids, and the kids love him, and he loves the grandchildren. He really is such a great guy."
Meanwhile, the matriarch has not yet commented further on the news but I'm assuming it's 'coz she doesn't wanna take away from all of Kourt's drama.
There's always room for more Kar-Jenner goss, imo!