Fans of Keeping Up With The Kardashians will know that Kourtney Kardashian doesn't take shit from men, hence why she's off gallivanting with younger hottie Younes Bendjima and ex Scott Disick is now with teen model Sofia Richie.
But old mate Younes better watch his back 'coz apparently he has some gripes with Kourt and I don't think it's gonna go down well…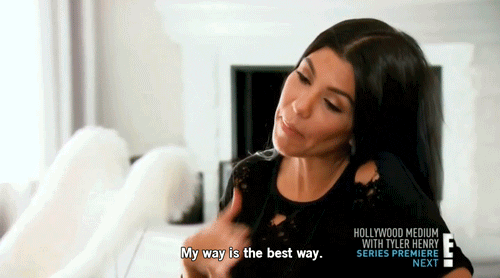 An insider close to the sitch tells PEOPLE that Younes isn't a fan of the sexy Instagram snaps that his reality star GF posts and he wants her to "cover up" and *insert eye roll*.
"He never liked that she posted sexy pictures of herself on social media. He doesn't want his girlfriend to do that. He gets that it's her job, but wants her to post more covered up picture," says the source.

The source adds, "He has always had a problem with this. This is the stuff they argue about and what made them split in the past."
The mama of three just returned from an extra AF European getaway with her boo and her three kiddies Mason, 8, Reign, 3, and Penelope, 5, which followers of the reality star will have known by the plethora of bikini shots that the trip spawned which apparently Bendjima was not happy about.
"Kourtney and Younes spent several weeks together in Europe. They had the best time!" a source tells PEOPLE. "It was hard for Younes when Kourtney left and returned to L.A. with the kids."
Obviously people will be divided on this matter but I'd just like to offer up the following tidbit and you can do with it what you will…