If there is one role Kris Jenner was born to play it is Regina George's TMI mum in cult-classic film Mean Girls.
So it made total sense for Ariana Grande to tap our favourite momager to cameo as the glorious, velour-clad icon for her 'Thank U, Next' throwback video. And yes, she totally nailed it – duh.
In case you missed it, here's Kris filming Ari – who plays Regina – as the singer busts a move alongside the Plastics 2.0 as they recreate the famous school talent show: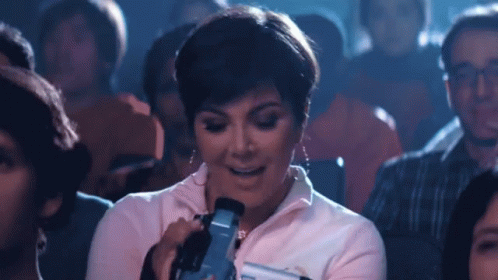 Of course, Kris was pretty bloody stoked to be the only Kardashian asked to star in the hyped music video, sharing the footage on Twitter with the oh so perfect quote "I'm no a regular mom, I'm a cool mom":
I'm not a regular mom, I'm a cool mom. 😉 https://t.co/GGpPNUC4N2 @ArianaGrande

— Kris Jenner (@KrisJenner) November 30, 2018
Of course, Kris then went full Mrs George filming Kendall Jenner in the Victoria's Secret Fashion Show just a few days later:
When you're not a regular mom, you're a cool mom @krisjenner #VSFashionShow pic.twitter.com/vGhSEokflW

— Victoria's Secret (@VictoriasSecret) December 3, 2018
I don't care what you say: I. LOVE. THIS. WOMAN.
In fact, Kris froths her Mean Girls role so much that, a week on, and she doesn't seem to be able to shut up about it. At least, that's what Kim Kardashian says, claiming her mum is now officially "milking" the gig. Er, okurrrr.
[jwplayer R96KTr5m]
Earlier today Kim took to Twitter to reveal that Kris has started casually dropping the "thank u, next" line in important business meetings.
I'm in a huge meeting and my mom just said "thank you,next" to everyone. She's really milking this guys 😂

— Kim Kardashian (@KimKardashian) December 5, 2018
"I'm in a huge meeting and my mom just said 'thank you, next' to everyone," wrote Kim. "She's really milking this guys."
First off, can you imagine everyone else's faces around the board room table when Kris dropped a bombass Ari reference?
Of course, Kim 100% sees the funny side of it all and was even involved in the filming process:
"She was definitely meant for that role,"
Kim told
Refinery29. "I was actually on FaceTime with Scooter Bruan [Grande's manager] when they were shooting that scene. So I was watching it in real time, and I was literally crying. I was like, crying watching her."
So, contrary to what you might think, it seems there are actually no hard feelings here.