Reality TV queen Kim Kardashian has never been one to pull any punches, especially when it comes to defending her sisters but she was surprisingly chill when asked about the whole Tristan Thompson / Jordyn Woods drama in a recent interview.
[jwplayer KuvqrAX2]
While promoting her new sunglass collection with Carolina Lemke eyewear, Entertainment Tonight asked Kim to comment on the debacle.
Here was her mega tame response:
"I think there's always a time and a place for everything and I think boundaries are good, lessons are good, forgiveness is good. It's all good, but you really have to talk to the people that were more involved."
Kim, is you ok bb?
Here's how old Kim would have answered that question: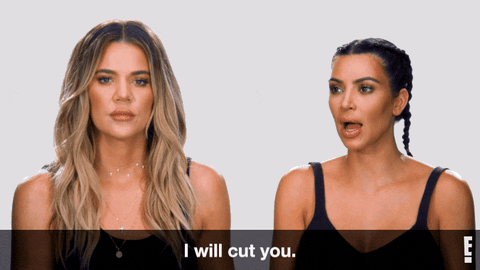 only directed @ tristan
Kim was also asked how she felt about Khloé being slammed for her poor dating choices during their fam appearance on Jimmy Kimmel.
ICYMI, here's what was said:
"I do want to ask about this character that you had a baby with," Kimmel asked. "Is it time to stop dating basketball players?" 
"I don't know," Khloe replied. "I like what I like. What can I say?"
And here was Kim's response: "I think Jimmy's always funny. I thought it was fine."
I dunno who this chick is and what she's done with the real Kim Kardashian, but imma need my shade queen back pls.