Last night chaos struck in the land of Instagram as reality star queen Khloé Kardashian switched her profile from public (AKA open to erryone) to private.
DUN
DUN
DUUUUUUUUUUN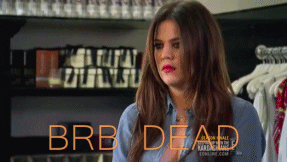 [jwplayer KuvqrAX2]
The hugely popular account went dark after posting photos from her daughter True's first birthday party, causing mass panic on social media.
https://twitter.com/particulartste/status/1118105233345929216
Why is Khloe's Instagram account private? I want to see True's birthday party😭

— Naledi T. (@Naledi__) April 16, 2019
Khloe kardashian put her Instagram on private LMAOOOOO wtf

— mcullah (@LilBiffles) April 16, 2019
https://twitter.com/simonecdw/status/1118008484753100801
So what the hell was the motivation behind this unprecedented, earth-stopping manoeuvre, hm?
Is she finally giving up her extremely public life and stepping away from the spotlight?
Is she barring BF Tristan from seeing what she's been up to post-cheating scandal?
Apparently it was just a glitch. A big, fat, mysterious glitch.
Kardashian stan account @kardashianvideos questioned Koko about what's going on:
"Khloé just turned her Instagram account to private, why did she do this?"
Kardashian spotted the post and switched her account back to public, writing:
"I was on my explorer page and I saw your post. I have NO idea how or why my page was private. I don't even know how to do that lol thank you for posting. I'm going to fix it. That's strange…"
The thing is, changing your Instagram account from public to private takes quite a bit of scrolling and clicking so it's not likely that she did it herself by accident.
It's possible that either her social media peeps went rogue and made the switch just for kicks (you KNOW she has a whole team of helpers) or perhaps she was hacked.
Either way, one thing's for sure…