Kendall Jenner looked downright banging at the Golden Globes yesterday, which isn't newsworthy in itself: girl always looks fire. But what really stood out about Kenny's look was her acne. Not that she has it – hell, don't we all? – but that she totally owned it.
Pimples are a very annoying fact of life, and they're a real downer, especially when you have a party or big event to go to. But sometimes you've just gotta go hard on the concealer and get out there, which is what Kendall did. Of course, that didn't stop the trolls from commenting.
https://twitter.com/7Kellx/status/950173215355260928
https://twitter.com/DANNYDEVlTOS/status/950179740744339457
https://twitter.com/saintonlyangel/status/950181270398619648
https://twitter.com/Makeba27/status/950163173369352192
https://twitter.com/kindhesfleur/status/950174944696160256
My skin at its worst is literally better than Kendall Jenner's at the golden fucking globes why am I not a model

— s (@sophiesuxx) January 8, 2018
Um, okay. This is super mature. And also, newsflash: it's not okay to bully anyone, even if they are rich and famous.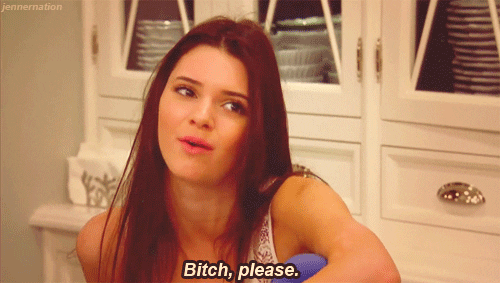 Luckily for Kendall, while she was out enjoying the Globes there were a shitload of loyal fans proving that they 100% have her back.
https://twitter.com/imemilyroberts/status/950443727985750016
Making fun of kendall jenner's skin won't make your skin better

— elle (@yslsoul) January 8, 2018
https://twitter.com/DeMarko_Gage/status/950418686858448896
All these people making fun of Kendall Jenner's skin as if they aren't using Facetune on every picture of themselves.
Let her live we all get acne from time to time

— Petey Plastic (@PeteyPlastic) January 8, 2018
All extremely valid points, imo.
But the best smackdown came from Kendall herself. BEHOLD:
never let that shit stop you! 😎✨ https://t.co/uXlqwJxTPf

— Kendall (@KendallJenner) January 8, 2018
YES GIRL.
Now excuse me, I'm going to print out and frame that tweet so I can look at it every time I have a breakout that threatens to ruin my life.
FOR MORE KENDALL JENNER GOODNESS, FOLLOW PEZ ON FACEBOOK, TWITTER AND INSTA.