A seemingly innocent selfie taken by radio personality Kate Langbroek went viral earlier this week after a freakish looking entity appeared in the background of the shot.
Have a go at the piccy taken inside her home in Bologna, Italy:
Look closer, fam:
*screams internally*
"WTF is that???" She wrote in the caption. "I hope if that white apparition is a ghost that it at least pitches in with the renos so we can finally move in."
Determined to get to the bottom of the freaky deaky jpeg, Langbroek enlisted the help of a ghost hunter named Raelene via her radio show Hughesy & Kate.
According to the paranormal expert, Langbroek's ancient Italian home isn't cursed, the mirror itself is cursed.
Meaning the spooky figure exists INSIDE the mirror.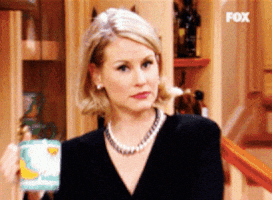 *screams both internally and externally*
"It's a male spirit that's been there for a long time," she told the radio host. "Immediately when I looked at it, I felt a male presence, and I actually felt very tribal." 
According to Raelene, mirrors facing each other can often create portals for the spirit world.
"Mirrors are like a portal to the other realm," she revealed. "I just felt immediately when I looked at the picture that this particular mirror has a history."
After Kate divulged that the mirror was from the 1700s, Raelene suggested trying to find out its origin story.
She also advised Kate to perform a "space clearing" ceremony on the residence and to cover up the mirror, but Kate said this isn't an option as it's mounted to the wall.
"I think the mirror's the problem, to be totally honest," Raelene said. "If you don't use it, you're not going to be affected by the reflections. It's holding its own history in that mirror."
If I were Kate, I'd be hitting up the Italian equivalent of Tree of Life ASAP and picking myself up a white sage stick to smudge the place.