Now that she's officially switched off Bonnie Bennett's cauldron in The Vampire Diaries, Kat Graham is bringing girl power to the small screen in a whole new way via Nickelodeon's latest incarnation of The Teenage Mutant Ninja Turtles.
Before the series hits Nickelodeon on Monday, we chatted to the stylin' sis about what inspired her to nab the role of April.
What are your earliest memories of the TMNT?
What I remember most about Ninja Turtles from my younger days are a bunch of little kids running around in Halloween costumes as the turtles.
I would see so many t-shirts and backpacks in school, and I was like 'what is the big deal?' And then I watched it and I saw what the big deal was.
Growing up, who was your favourite character and why?
Growing up, I have to say my favourite character was Splinter.
What attracted you to the role?
So many things attracted me to this role. I wanted to do something different, something I had never done before.
I didn't have any expectations because I was sure at the time that a lot of girls were going after this role and I didn't have any long term previous animation experience. I just wanted to have fun and bring a lot of fierceness to this role.
How does this incarnation of TMNT differ from previous incarnations?
There are a lot of things that differ from the previous incarnations. The first thing you notice is the animation. The fact that it's 2-D makes it feel classic, but everything from the sets to how the characters are drawn definitely feels new, funky and fresh.
Obviously, April looks and sounds a bit different, and I definitely think that the characteristics of the Ninja Turtles are a bit quirkier than before.
Tell us about your character, April…
April is super fun, sassy, and empowered. Her dynamic with the turtles is definitely inclusive. She fights alongside them and she can definitely hang with the boys.
Do you relate to April?
I definitely think I relate to April in terms of my silliness, more so than any other character I've played before. A lot of people don't know but I am very silly.
We are also gung-ho about what we want. We go after it with force and sass!
We're in a time where women are becoming empowered and that's being reflected on screen: how does April fit into that?
100 per cent! I go after roles where I feel like any young girl that sees that will feel inspired in some way. It's not good enough for me to drive the getaway car, I want to be involved in the action. Just because I'm a girl, doesn't mean that I can't hang.
And what I love so much about what Ant and Andy have brought to April is the fact that they are so incredibly inclusive of her in all the adventures. It's so much fun to play, and hopefully even more inspiring to watch.
Kat Graham as the bad-ass witch Bonnie Bennett
What was your reaction when you found out John Cena was lending his voice to the villain?
I was stoked. It's amazing how many incredible actors have been so excited to lend their voices to this iconic cartoon, like Johnny Rotten, Lena Headey and of course the amazing actors behind the turtles. John adds so much fun to this cartoon. He's incredible in it.
What do you hope fans get from watching the show?
There's so many different things I hope fans get from this cartoon. For the older fans that have watched Ninja Turtles through its many incarnations, I hope they get that feeling of nostalgia back. I hope they find new things about the turtles and the show to fall in love with.
For the new fans, I hope we bring them something that they will have for many years to share with their children, that is fiercely original and still forever timeless.
And for anyone that sees April, I hope they see themselves dancing across the screen, kicking butt, and being empowered, knowing that any and everything is possible.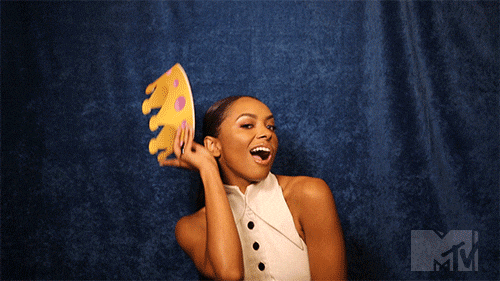 Rise of the Teenage Mutant Ninja Turtles premieres on Nickelodeon on Monday, 1st October at 5pm for a week of new episodes, and behind the scenes content is available to stream now on the free-to-download Nick Play app.