The March cover of Vogue magazine has just been unveiled and your dad and mom, Justin Bieber & Hailey Bieber (née Baldwin) are front and centre, just like it should be.
[jwplayer sNd5cmTH]
The happy couple were photographed by photog legend Annie Leibovitz
The pair got a lot more candid than, frankly, I thought they would and they unleashed on drug use, fame and that whole debate of sex before marriage.
Let's start with the million dollar question that has been tossed around for months now: are these two actually married?
Short answer: YES.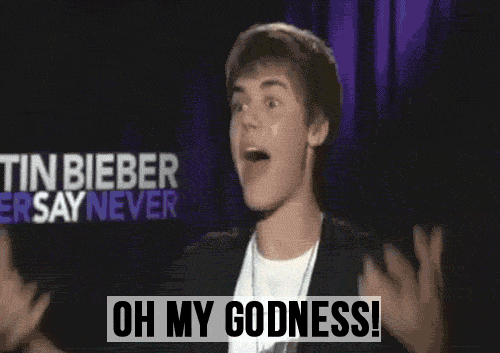 The couple confirm that they did get hitched at a lower Manhattan courthouse last September after a twelve-week romance and are still planning a lavish wedding.
Justin starts by telling the Vogue journo that he travelled from a weeklong group-therapy retreat (where "there were these séances" that "kind of freaked me out") to Seattle to go to marriage counselling with his wife.
"The thing is, marriage is very hard," says Hailey. "That is the sentence you should lead with. It's really effing hard."
They discuss meeting way back when at a Today-show appearance in 2009 where Justin was performing and Hailey had been given tickets by her uncle the actor Alec Baldwin.
Hailey denies being a level-11 Belieber as has been reported in the past.
"I was never a superfan, of him or of anyone," she says. "It was never that crazed, screaming thing. I didn't think about it in any kind of way except for the fact that he was cute. Everybody had a crush on him. But for the first few years we had a weird age gap."
A few years later, they would meet again at a Hillsong gatho at Irving Plaza. "One day Justin walked into Hillsong and was like, 'Hey, you got older.' I was like, 'Yeah, what's up?' Over time he became my best guy friend. I was running around with him as his homie, but we weren't hanging out [romantically]."
But something happened following their highly publicised whirlwind romance that they still cannot talk about.
"Negative things happened that we still need to talk about and work through," Hailey explains. "Fizzled would not be the right word—it was more like a very dramatic excommunication. There was a period where if I walked into a room, he would walk out."
After time apart, the pair ran into each other again in June 2018 at a conference in Miami and that's when everything changed.
"The common denominator, I promise you, is always church. By then we were past the drama. I just gave him a hug. By the end of the conference, he was like, 'We're not going to be friends.' I was like, 'We're not?' " Within a month, they were engaged.
Justin says that by the time he and Hailey had reconnected, he was abstaining from sex, describing it as "a legitimate problem with sex." 
And that's where the whole sex before marriage debate was raised.
"[God] doesn't ask us not to have sex for him because he wants rules and stuff," Justin explains. "He's like, I'm trying to protect you from hurt and pain. I think sex can cause a lot of pain. Sometimes people have sex because they don't feel good enough. Because they lack self-worth. Women do that, and guys do that. I wanted to rededicate myself to God in that way because I really felt it was better for the condition of my soul. And I believe that God blessed me with Hailey as a result. There are perks. You get rewarded for good behaviour."
It has been widely speculated that the pair tied the knot because Hailey was pregnant which the pair deny.
"When I saw her last June, I just forgot how much I loved her and how much I missed her and how much of a positive impact she made on my life," he said. "I was like, Holy cow, this is what I've been looking for."
Another interesting tidbit from the interview is when he discusses his trainwreck days back in 2013 where he went from teen heartthrob to a thug that was pissing in restaurants, egging his neighbours and being detained at aiports for trying to smuggle a monkey into foreign countries.
"A lot of the douchey things I was doing gave people the right to be like, Man, that's frickin' douchey, bro. But a lot of the stuff was like—me peeing in a bucket, people made such a big deal of that. Or me owning a monkey. It's like, if you had the money that I had, why wouldn't you get a monkey? You would get a monkey!"
He admits to abusing Xanax at this time which largely contributed to his downfall.
"I found myself doing things that I was so ashamed of, being super-promiscuous and stuff, and I think I used Xanax because I was so ashamed. My mom always said to treat women with respect," he recalls.
"For me that was always in my head while I was doing it, so I could never enjoy it. Drugs put a screen between me and what I was doing. It got pretty dark. I think there were times when my security was coming in late at night to check my pulse and see if I was still breathing."
The interview ends on so cute a note that I'm reaching for my desk-side garbage bin to throw up. Ready for this?
"It's just that I'm fighting to do this the right way, to build a healthy relationship," Hailey clarifies. "I want people to know that. We're coming from a really genuine place. But we're two young people who are learning as we go. I'm not going to sit here and lie and say it's all a magical fantasy. It's always going to be hard. It's a choice. You don't feel it every single day. You don't wake up every day saying, 'I'm absolutely so in love and you are perfect.' That's not what being married is. But there's something beautiful about it anyway—about wanting to fight for something, commit to building with someone. We're really young, and that's a scary aspect. We're going to change a lot. But we're committed to growing together and supporting each other in those changes. That's how I look at it. At the end of the day, too, he's my best friend. I never get sick of him."
Justin responds, "And you're my baby boo."
Didn't I tell ya?