Since the rise of the #MeToo movement, many articles have popped up that have posed the question of whether or not certain storylines from previous TV shows and movies would fly in the current climate.
[jwplayer sNd5cmTH]
Elsewhere there are Instagram accounts like @wokecharlotte that changes quotes spoken by the Sex & The City character back in the '90s/'00s to a more enlightened point of view, such as the following:
https://www.instagram.com/p/Bcw-pnHhBCu/
With this in mind, actress Julia Roberts recently pondered her hit 1990 flick Pretty Woman and she came to the consensus that you could not make that film in 2019.
"I don't really think you could make that movie now, right?" Roberts told The Guardian of the renowned love story about a prostitute and a business tycoon, played by Richard Gere.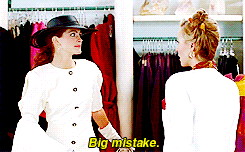 But while she believes there are many aspects that you could condemn under a 2019 lens, she reckons it's still an enjoyable film for viewers.
"So many things you could poke a hole in, but I don't think it takes away from people being able to enjoy it," she adds.
Roberts went on to spill some behind-the-scenes tea from the making of the film, revealing that she landed the role of Vivian Ward after eight other actresses turned it down.
"It really is not a measure of talent, particularly in the beginning", she said. "It's a measure of good fortune – and being able to have your wits about you enough to make something out of that good fortune."
Anyway, Pretty Woman is now streaming on Stan if you wanna relive the glory of the iconic flick.