When it was announced that the Second Coming of Albus Dumbledore would be portrayed by Jude Law, fan reactions were rather mixed with many suggesting that the actor might not be the right fit for, let's face it, one of the greatest fictional characters of all time.
But after reading the 45-year-old's first interview about the role, I must say I'm definitely warming to the idea as Law seems to have a wealth of knowledge on the character and reading him discuss ol' Dumbledore's M.O. has me all kinds of excited.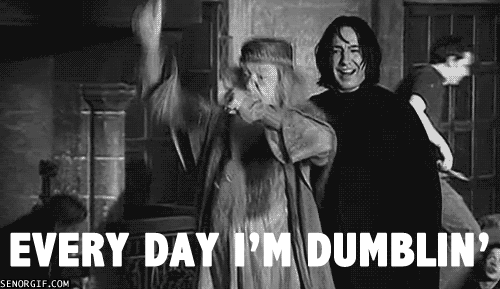 Speaking to Entertainment Weekly, Law tackled the topic of heavy debate: will Dumbledore be gay in Fantastic Beasts: The Crimes of Grindelwald?
That was a question I actually asked Jo and she said, yes, he's gay. But as with humans, your sexuality doesn't necessarily define you; he's multifaceted. I suppose the question is: How is Dumbledore's sexuality depicted in this film? What you got to remember this is only the second Fantastic Beasts film in a series and what's brilliant about Jo's writing is how she reveals her characters, peels them to the heart over time. You're just getting to know Albus in this film, and there's obviously a lot more to come. We learn a little about his past in the beginning of this film, and characters and their relationships will unfold naturally which I'm excited to reveal. But we're not going to reveal everything all at once.
Director David Yates caused a fair bit of controversy earlier this year when he told the publication that the character is "not explicitly" gay, adding "but I think all the fans are aware of that. He had a very intense relationship with Grindelwald when they were young men. They fell in love with each other's ideas, and ideology and each other."
Describing the iconic character, Law says that "there's a sense of humour and mischief, a dash of anarchy, a sense of what's right and what he believes in, and a sense of mystery," teasing that there's "a certain heaviness about him that I don't want to reveal too much about — and that's something he has to overcome, or hopes to overcome."
He adds: "He's also got a great passion for sharing his knowledge, he's a powerful and inclusive teacher."
He also revealed that he "knew the books and the Harry Potter films pretty well" when he took the role and even had the supreme honour of sitting down with queen J.K. Rowling.
"I had the good fortune and opportunity to sit with [author and screenwriter] J.K. Rowling shortly after we started work on it. She gave me a very good sense of Albus' life journey and who he was and what was happening in his head and his heart and his world for this particular story."
And yep, Johnny Depp came up…
"I don't actually have any scenes with Johnny," Law revealed. "As I said before, this is only Part 2 of a longer story. I've always admired him from afar, but we don't know each other, and I've not yet met him on this. In many ways that suits the relationship as it's been many years since they've seen each other. So there's complexity in that that's fun to mine. Again, the past will reveal itself."
Fantastic Beasts: The Crimes of Grindelwald opens Nov. 15.