Just when you thought John Krasinski and Emily Blunt couldn't get any bloody cuter, this happens.
Last year the couple joined forces to star in and produce John's film The Quiet Place, landing Emily a nomination for Outstanding Performance by a Female Actor in a Supporting Role at this year's Screen Actors Guild Awards.
So when it was announced that Emily had, in fact, won the award, the couple was absolutely ecstatic and the footage will melt even the coldest of hearts.
But the #relationshipgoals didn't stop there, with Emily dedicating her entire acceptance speech to thanking her husband, leaving him teary-eyed and, to be honest, SAME.
This has to be a historical first, as one of the only acceptance speeches we've actually wanted to have extended.
Watch the absolutely adorable ordeal play out here:
Emily Blunt and John Krasinski remind us every award show that they are the OG's of #couplegoals 💕 pic.twitter.com/z9587ubBTc

— Access Hollywood (@accesshollywood) January 28, 2019
"I am going to share this completely with my husband, John Krasinski, because the entire experience of doing this with you has completely pierced my heart directly," Emily said.
"You are a stunning filmmaker," she continued. "I'm so lucky to be with you and to have done this film with you. Thank you for giving me the part. You would have been in major trouble if you hadn't."
I MEAN, JUST LOOK AT HIM:
Let's not forget that, when John initially wrote The Quiet Place, Emily was not intended to feature in the film.
"Emily had actually recommended several different actresses based on my pitch of some of the scenes. Her being in the movie, we really hadn't even considered," John recently wrote for Empire.
But that all changed when she read the screenplay and asked John if she could take the role. "I have to be completely honest when I tell you that that exact moment — having this woman that I admire and respect agree to do this movie with me — was the best compliment of my career," added John.
Me right now: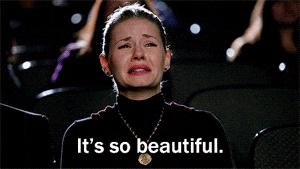 The other actresses nominated for the prestigious award include Margot Robbie, Emma Stone, Amy Adams and Rachel Weisz.
Blunt was also nominated in the 'Outstanding Performance by a Female Actor in a Leading Role' category her role in Mary Poppins Returns, but the award went for Glenn Close for The Wife.