There's a moment in the new movie Hustlers where Jennifer Lopez (in character as real-life stripper / felon Ramona Vega) talks about a celebrity she's been obsessed with since she was a teen coming into the club where she worked and how starstruck she got over him. It's funny, because for me, the celeb I've been obsessed with since I was a teen is Jennifer Lopez. For 20-odd years of my life I've loved her movies, loved her music and just dug her general vibe.
[Editor's note: The Oscar nominations came out today and J.Lo did not receive a nomination. Cowards, cowards everywhere.]
[jwplayer Wuw8HwZt]
I'm obviously not alone here, as she's enjoyed constant success for those 20-odd years as an actor, singer, producer, brand ambassador, and TV host because people enjoy watching her and listening to her. But as a card-carrying J.Lo fangirl I need to tell you that Hustlers is her finest work yet. Yes, even more majestic than the song "Get Right".
Okay, so let's get this out of the way first: there's no denying that Jennifer Lopez looks amazing in this movie. About 10-15 minutes in she does a pole dance routine in a literal ribbon of an outfit and the fact that this woman is 50 years old, maybe 49 at filming time, boggles the mind. How, HOW does she still have this ridiculous rig? It's unfair to every other rig in the world. But to focus on Jennifer's body does a disservice to her performance in the film. She's simply fantastic in it.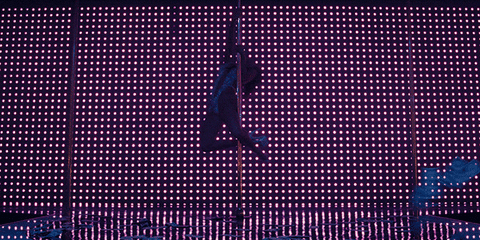 Really, Hustlers could have been an exploitative, one-note movie painting strippers as stereotypically as we've seen Hollywood do in the past, and it's a credit to writer-director Lorene Scafaria for creating a film filled with relatability and heart.
In the film, Jennifer takes on a real-life subject in Ramona, a veteran New York stripper who has made a comfy life for herself and her daughter through using her talent, aforementioned rig and knowing how to play the game — the game being a strip club stacked with clientele made up of cashed-up Wall St dudes in the glory days before the 2008 stock market crash.
She's a seasoned professional and despite her somewhat hardened exterior, a maternal softie who takes newbie Destiny (Constance Wu in another exceptional performance) under her wing. But when the messy financial events of 2008 occur and the knock-on effect is felt, Ramona has to roll with the punches that her life gives her. When life gives Ramona lemons, she makes a concoction of MDMA and ketamine and gets to work hustling.
What I love about Jennifer Lopez in this movie is that I forgot it was Jennifer Lopez. I think when you're a superstar, that's really hard to pull off. Oh look, it's Tom Cruise jumping out of a plane. Oh wow, Brad Pitt just took his shirt off on a Hollywood rooftop. And maybe for a bit it was, hey look, Jennifer Lopez is pole dancing. But I soon really bought her as Ramona. She totally becomes her, and turns the character into a flawed, multi-dimensional human with rough edges and soft moments. She totally disappears into the character, and because of that, I found myself totally disappearing into the story.
Jennifer Lopez has been good in a lot of movies. Roles in Out of Sight, Enough, and Maid in Manhattan come to mind, and I personally adored her in Second Act. But Hustlers is a new level for J.Lo. It's grittier, more real and probably the most challenging role she's taken on. And she bloody nails it.
I'm not actually alone in my viewpoint that Jennifer should be rewarded for her work on Hustlers, and there's been plenty of well-deserved hype around. While we often see awards show season accolades reserved for your ~serious actor types~ like your Cate Blanchetts, your Meryl Streeps, and your Daniel Day-Lewises, I think if Sandra Bullock can take home a gong for The Blind Side then Jennifer freaking Lopez can take home a Best Supporting Actress award for Hustlers.
It's what she deserves. It's what her fans deserve. For your consideration, Academy, give Jenny from the block a chance.