During Prince Harry and Meghan Markle's recent jaunt Down Under, they ticked off a bunch of touristy staples including Taronga Zoo, the Opera House and Bondi Beach as per their itinerary. But before they left the country they made a surprise stop that wasn't quite on their to-do list.
[jwplayer t3015h2z]
The royal pair were treated to a special performance by incredibly gifted private school student, Ja'mie King.
As per the footage, Miss King performs a choreographed dance to a heartfelt ballad as the Duke and Duchess of Sussex watch on.
Check out the glorious moment in Australian history below:
In all seriousness, the fanmade video started doing the 'rounds on social media and the legend behind the iconic character (as well as Jonah From Tonga, Angry Boys, Summer Heights High and We Can Be Heroes), Chris Lilley shared the footage on his Instagram.
"The Duke and Duchess of Sussex were treated to a private performance by Ja'mie King," he captioned the video.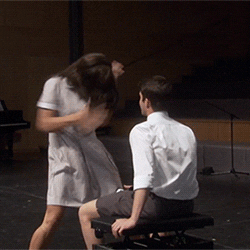 excellent stuff
While we have you, the comedy genius is set to make his big comeback with a new series for Netflix, filmed on the Gold Coast.
In the meantime, binge-watch Ja'ime Private School Girl, Summer Heights High and We Can Be Heroes on Stan.