Contributor: PEDESTRIAN.TV
Is your July schedule jam packed? Well, you're gonna wanna start putting in the groundwork for those flaky excuses 'coz streaming giant Stan is adding a bunch of epic TV shows and flicks to spice up your Winter.
First up, it's got the exclusive on season 5 of the hit thriller series Power where Kanan (played by your boy 50 Cent), Ghost (played by Omari Hardwick) and Tommy (played by Joseph Sikora) are set to raise a whole lotta hell following the INSANE events of season 4.
Meanwhile, Ray Romano makes his television return alongside Chris O'Dowd in the Stan-exclusive series Get Shorty inspired by the 1990 Elmore Leonard novel of the same title about a hitman who moves to Hollywood and joins forces with a washed up movie producer.
Season 1 is set to premiere on July 12 with season 2 to follow on August 12, same day as the U.S.
And check out comedian and TV show host Stephen Colbert's piss-take on American politics in the dark comedy animated series My Cartoon President currently streaming on Stan with new episodes returning on July 16.
As for flick picks, Stan Original Feature Film The Second is one to include on your next movie night.
The Aussie-based film tells the story of a successful author (Rachael Blake) who goes on a weekend away with her publisher boyfriend (Vince Colosimo) to become re-inspired when a dark secret from their past comes to light.
If it's movies of the comedic variety that you're after, I recommend Bad Moms 1 & 2 with a star-studded cast of funny ladies to keep you cackling including Mila Kunis, Kathryn Hahn, Kristen Bell, Christina Applegate, Susan Sarandon and Christine Baranski.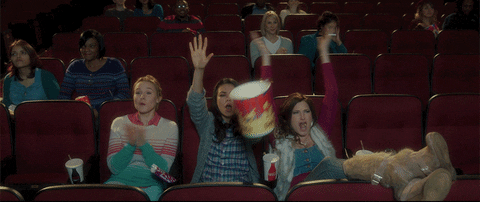 Have a squiz at the full list below:
Sunday 1/7/18
Wrong Man: Season 1, Episode 5
Power: Season 5, Episode 1 – Premiere
We Bare Bears: Season 3
Stacey Dooley Investigates – Young Sex For Sale In Japan
Stacey Dooley Investigates Canada's Lost Girls
Monday 2/7/18
I'm Dying Up Here: Season 2, Episode 9
Preacher: Season 3, Episode 2
Claws: Season 2, Episode 4
Shaun the Sheep: Season 4
Shaun the Sheep: Season 4.5
Shaun the Sheep: The Farmer's Llamas
Timmy Time: Season 3
Papers in the Wind
Tuesday 3/7/18 Song to Song
Samurai Jack: Season 1
The Beach of the Drowned
Wednesday 4/7/18
Broken (Miniseries)
Daddy's Girl
Thursday 5/7/18
Condor: Season 1, Episode 5
Khumba
What A Beautiful Surprise
Friday 6/7/18
Escape From Planet Earth
Airmageddon: Season 1
My Gym Partner's A Monkey: Season 1
My Gym Partner's A Monkey – Animal School Musical
Saturday 7/7/18
Just Another Immigrant: Season 1, Episode 9 & 10 – Final
Ben 10: Season 2, Episode 29 & 30
Bend It Like Beckham
Sunday 8/7/18
Wrong Man: Season 1, Episode 6 – Final
Power: Season 5, Episode 2
Horid Henry
Monday 9/7/18
I'm Dying Up Here: Season 2, Episode 10 – Final
Preacher: Season 3, Episode 3
Claws: Season 2, Episode 5
Sniper: Special Ops
Chlorine
Tuesday 10/7/18
The Foreigner
The Well
Wednesday 11/7/18
Younger: Season 5, Episode 5
Horses of God
Thursday 12/7/18
Condor: Season 1, Episode 6
Get Shorty: Season 1
Friday 13/7/18
Hamlet & Hutch
The Family
Horns
Wondrous Boccaccio
Saturday 14/7/18
Ben 10: Season 2, Episode 31 & 32
Slumdog Millionaire
Sunday 15/7/18
Power: Season 5, Episode 3
Resurrecting the Champ
Monday 16/7/18
Preacher: Season 3, Episode 4
Claws: Season 2, Episode 6
Our Cartoon President: Season 1, Episode 11
Eva Doesn't Sleep
Tuesday 17/7/18
The Snitch Cartel
Wednesday 18/7/18
Younger: Season 5, Episode 6
League of Super Evil: Season 1
Assolo
Thursday 19/7/18
Condor: Season 1, Episode 7
Reign: Season 4
Friday 20/7/18
The Second
Transcendence
Saturday 21/7/18
Ben 10: Season 2, Episode 33 & 34
Sin City II: A Dame to Kill For
Sunday 22/7/18
Power: Season 5, Episode 4
Mclaren
Monday 23/7/18
Preacher: Season 3, Episode 5
Claws: Season 2, Episode 7
Our Cartoon President: Season 1, Episode 12
Soap Opera
Bad Moms
Tuesday 24/7/18
Suburbicon
The Rebel in the Rye
Wednesday 25/7/18
Younger: Season 5, Episode 7
Opposites Attract
Thursday 26/7/18
Condor: Season 1, Episode 8
No Tomorrow: Season 1
Hyena
Friday 27/7/18
Storytelling
A Holy Mess
The Handmaiden
Degrassi – The Next Generation: Seasons 8 & 9
Saturday 28/7/18
Cockneys Vs Zombies
Sunday 29/7/18
Power: Season 5, Episode 5
Zoology
Monday 30/7/18
Preacher: Season 3, Episode 6
Claws: Season 2, Episode 8
Our Cartoon President: Season 1, Episode 13
Indignation
Nerve (2016)
Tuesday 31/7/18
21 and Over
Neon Bull
Aloys