There is exactly one (1) week until Harry Styles drops his hotly anticipated sophomore album and in case you're not already keen as mustard, here's ya boy completely starkers to get your juices flowing.
[jwplayer NQjBCmN6]
No legit tho, I'm not shitting you, he's totally nude. Covering his junk, but still nude nonetheless.
And IDK about you, my horny friend, but I've always found the image of a guy covering his package as arousing as seeing the appendage itself. Don't ya reckon?
Just me?
Yes?
Alrighty-roo then.
Yeah look, I'll stop yammering on and give you guys the goods. That's what you really came here for, after all.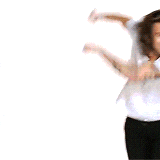 The One Direction singer, notice how I didn't write "fOrMeR" 'coz once a 1D singer, always a 1D singer (unless your name is Zayn Malik) posted a YouTube video showcasing the vinyl set for his new album.
The video shows Harry flipping through the pages, unveiling the artwork within including these ~glorious~ shots:
*screams, both internally and externally*
Have a go at the aforementioned video below, will ya?
Fine Line will be released into the universe next Friday and believe me when I say that I am counting down every goddamn millisecond.